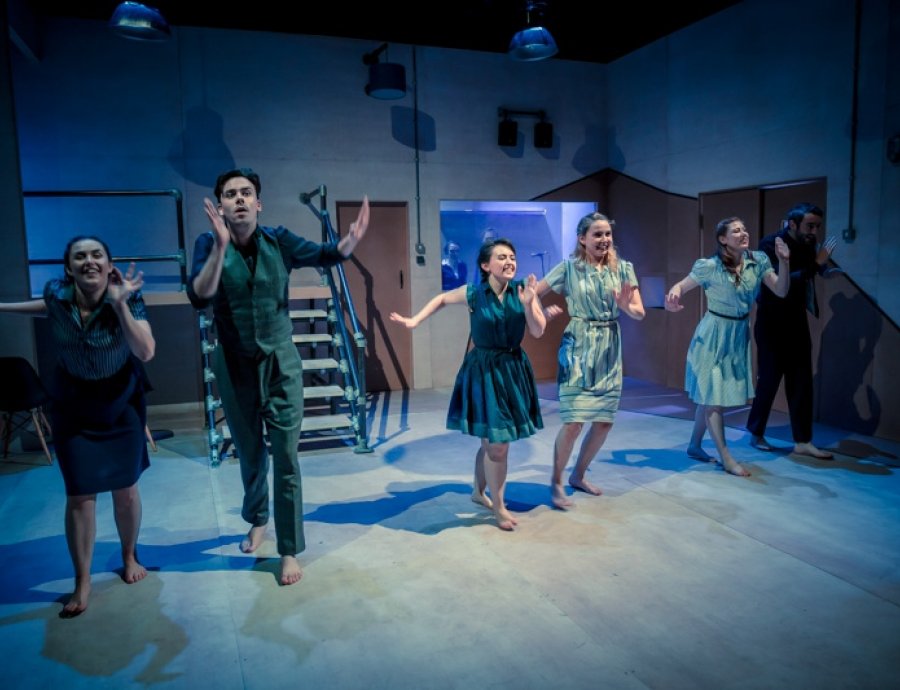 Short Courses / Acting
Acting and Irish Theatre
4 weeks / 10.00am - 5.00pm
Acting and Irish Theatre is a course for current acting/theatre/drama students who wish to expand, explore and deepen their awareness of Irish Theatre
Course Fees
Non-Residential

€2,250
Residential

€3,654

(Instalments available)
Course Information
Course Begins:
15/07/19
Duration:
4 weeks, 10.00am - 5.00pm
When:
Summer
Ages:
18+
Questions?
If you have any further questions, enquire and we'll contact you.
Overview
This course is aimed at theatre and acting students around the world who wish to explore and experience Irish Theatre while immersed in its native context.
This course is worth 10 ECTS (European Credit Transfer and Accumulation System) credits towards any third level drama qualification.
Participants on the course will engage with some of Ireland's greatest writers, both classic and contemporary, including Sean O'Casey, Samuel Beckett, Brian Friel, Conor McPherson and Marina Carr; studying the literary and performance context of each play.
Acting classes are taught by leading Irish directors and dramaturgues who will dissect the text so that students get a deeper understanding of it. Voice classes will focus on the particular requirements of Irish texts including a wide range of Irish contemporary and historic dialects and movement classes will focus on the unique demands of performing Irish plays. The actor will explore how movement in different Irish plays changes relative to culture, dress, dance, beliefs and environment. Students will engage with the physical embodiment of work as well as concepts of past-time and the muscularity of text.
Applicants are advised that the course is physically demanding.
ACCOMMODATION IS NOT INCLUDED IN THIS PRICE BUT IT CAN BE BOOKED AT AN ADDITIONAL COST OF 52 EURO PER NIGHT. YOU CAN CHOOSE THE NUMBER OF NIGHTS YOU WOULD LIKE WHEN YOU ARE BOOKING A PLACE ONTO THE COURSE.
THE PRICE QUOTED DOES NOT INCLUDE BREAKFAST.
Bursaries are available for this course. They are means tested and can only be applied for once a place has been offered.

Course Content click to
Please see below the contents for the 2016 course. It is recommended that the plays are read in advance
Week one:
The Lonesome West by Martin McDonagh
The Weir by Conor McPherson
Whistle In The Dark by Tom Murphy
Conversations On A Homecoming by Tom Murphy
The Walworth Farce by Enda Walsh

Week two:
Howie the Rookie by Mark O'Rowe
Our Few and Evil Days by Mark O'Rowe
The Cripple of Inishmaan by Martin McDonagh
I Heart Alice Heart I by Amy Conroy
Translations by Brian Friel
Dancing At Lughnasa by Brian Friel
Week three:
The Shadow of a Gunman by Seán O'Casey
The Plough & The Stars by Seán O'Casey
All That Fall, Waiting for Godot, Not I, Eh Joe, Happy Days and Endgame by Samuel Beckett
The Cat and The Moon by W.B. Yeats
Purgatory by W.B. Yeats

Week four:
By the Bog of Cats by Marina Carr
The Playboy of the Western World by JM Synge
Included in the course are visits to various theatres in Dublin, tickets to shows that are running at that time and where possible, discussions with directors who are working in the city at this time.

Cancellation Policy click to
The full course fee of €2,250 (or €3500 including accommodation) is payable as acceptance of an offer of a place on the course. You can pay online through our website here or alternatively please contact The Lir Academy for details on paying by cheque, postal order or cash.
You may also pay in instalments. A deposit will need to be paid immediately to confirm your place on the course with the full fee paid by Monday 18th June 2018.
In the event of a cancellation more than one month prior to the course start date on courses costing €250+ a forfeiture of €250 will be retained to cover administration costs.
In the event of a cancellation more than one month prior to the course start date on short courses priced below €250, a forfeiture of the total course fee will be retained
A withdrawal less than one month before the course start date will result in the forfeiture of the entire fee.
"
" I almost wish I could pick up and move to Dublin so I could audition here. The training I've gotten here has allowed me to get a whole new perspective on approaching a script. A toolbar to carry with me every new play I work on."
Martina