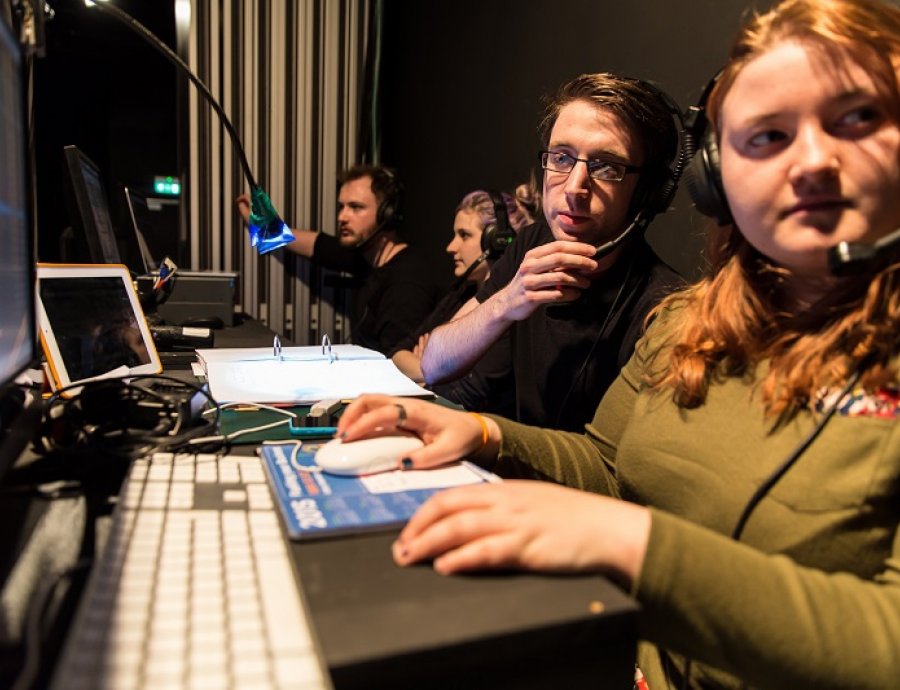 Short Courses / Technical
Introduction to Stage Management and Technical Theatre
1 week / 10.00am - 5.00pm
A one week taster course for anyone who is considering training in stage management or any of the disciplines associated with technical theatre.
Course Information
Course Begins:
15/07/19
Type:
Beginners
Duration:
1 week, 10.00am - 5.00pm
When:
Summer
Ages:
16+
Questions?
If you have any further questions, enquire and we'll contact you.
Overview
This course is suitable for people who work within amateur theatre and are interested in improving their stage management and technical knowledge as well as those considering third level training in stage management and/or technical theatre. The areas covered in this course will reflect the key subjects covered in the Bachelor in Stage Management and Technical Theatre course at The Lir including
Managing the Stage
This one day workshop will introduce participants to the roles of the Stage & Production Manager and will identify how the team of CSM, DSM and ASM are divided into roles and responsibilities. It will detail the basics of running a rehearsal room, of blocking, prompting and reporting and participants will also create a prompt copy.
Technology and the Stage
Exploring stage technologies, lighting and sound.
A one day workshop covering the principles and practices in lighting a small theatre production including rigging and focusing theatre lanterns and programming the operating desk. The course will include practical sessions as well as presentations from the tutor.
There will also be a focus on sound design covering what sound is and how it can be managed, systems and equipment and how to use them and the basics involved in setting up the sound for a theatre production.
Making the Stage
This two day workshop is broken down into Designing the Stage and Constructing the Stage. Designing the stage looks at the considerations to be taken into account when starting out the design process including access, resources, size of the space etc., creating design concepts and the importance of model boxes that easily communicate the large scale stage design and preparing suitably detailed plans for construction, props, costume and scenic departments.
Constructing the stage will include an introduction to modern stagecraft and construction as well as practical sessions on stage and set work.
Dressing the Stage
Participants will be given a brief history on costume and costume design for theatre throughout the years and will learn about planning, designing, creating and finding clothing including period costumes, footwear, jewellery, wigs etc for the actors.

Course Content click to
The course starts daily at 10.00am and runs until 5.00pm
The Lir Academy will be open from 9.00am so if you get here a bit early, that's not a problem, just come in and wait in the foyer.
Please bring a pen and notebook with you for your own notes. You might get handouts on the day as well, but do feel free to take your own notes.
Wear old clothes - that you don't mind getting dirty or maybe a bit of paint on. Feel free to bring clothes to change into if you prefer.
If you have steel top capped shoes/boots, bring those also - but please, don't rush out to buy them!!

The course is practical in that you will be designing, constructing, working in scenic art, using a lighting desk and a sound desk etc, so be prepared to roll your sleeves up and get stuck in.
There will be a break for lunch - you can either bring your lunch with you or there are a number of cafes and supermarkets within a short distance of The Lir where you will be able to buy both hot and cold food.
You can eat your lunch in the foyer of The Lir but not in the studios or seminar room.
Feel free to bring bottled water with you but no hot drinks are allowed in any of the rooms other than the main foyer.

Cancellation Policy click to
The full course fee is payable as acceptance of an offer of a place on the course.
In the event of a cancellation more than one month prior to the course start date on courses costing €250+ a forfeiture of €250 will be retained to cover administration costs.
In the event of a cancellation more than one month prior to the course start date on short courses priced below €250, a forfeiture of the total course fee will be retained
A withdrawal less than one month before the course start date will result in the forfeiture of the entire fee.
Please note, acceptance onto the course is at the discretion of The Lir Academy. If The Lir feels for whatever reason that a participant is not suitable for the course, he/she will not be accepted. All decisions are final and not subject to appeal.
Insurance click to
It is strongly recommended that all participants insure themselves to cover the loss of fees in the event of illness, for which The Lir Academy cannot accept any liability.
"
"A brief but informative and in depth look at the behind the scenes of stage craft"
Adam