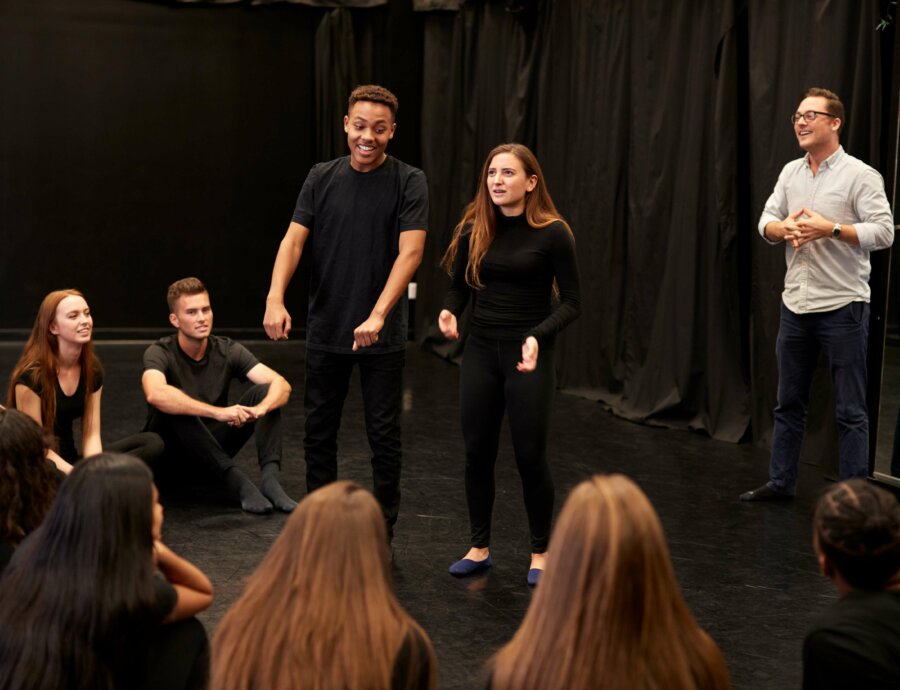 Short Courses / Acting
Summer Acting Camp
1 week / 10am - 2pm
Summer Acting Camp provides professional drama training for young performers aged 13-15 with a passion for acting. Scroll down for more information.
Course Information
Duration:
1 week, 10am - 2pm
When:
Summer
Ages:
13-15
Questions?
Please visit the FAQs here. If you don't see your answer there, you can contact us via the enquiries button.
Overview
The course is designed for young actors aged 13-15 who have a passionate interest in performing and would like to have an early start in acting training. Participants will get a taste of the environment of a theatre academy and hone their skills under the supervision of core Lir Academy tutors.

The programme introduces young performers to the key components of actor training such as: Acting & Improvisation, Voice & Speech and Movement & Physical Theatre in a supportive, fun and educational environment. This course is an excellent first step for young actors who are passionate about being on stage and want to work towards a career in theatre and drama.
The Summer Acting Camp is available for young actors aged 13 - 15.
The Summer Acting Camp is a forerunner to Junior Academy and both the Two Week Young Actors' Programme and the Four Week Young Actors' Programme
Please note that The Lir Academy continues to monitor the delivery of short courses in relation to governmental guidelines on Covid-19. For full details on our policies on this, please see our terms and conditions here.
Application Process click to
Once you have completed the application form above, you will receive notification within two weeks. If a place has been allocated then you are required to continue the application process online and will be forwarded a link to do this.
Please do not send money for this course at this stage. Payment will be required only when a place has been allocated.
Although there is no application deadline, places are limited and early booking is recommended. All applications are considered in order of receipt. If an application is received after the course is full, the applicant will be put on a waiting list. Applicants will be informed by email whether or not they have been accepted.
Acceptance onto the course is at the discretion of The Lir Academy. If The Lir feels for whatever reason that the applicant is not suitable for the course, then the application will be declined All decisions are final and not subject to appeal.
Due to the high demand for Lir courses applicants may be held on a waiting list.
Please note: A minimum number of participants are required for all workshops to proceed.
Terms and Conditions click to