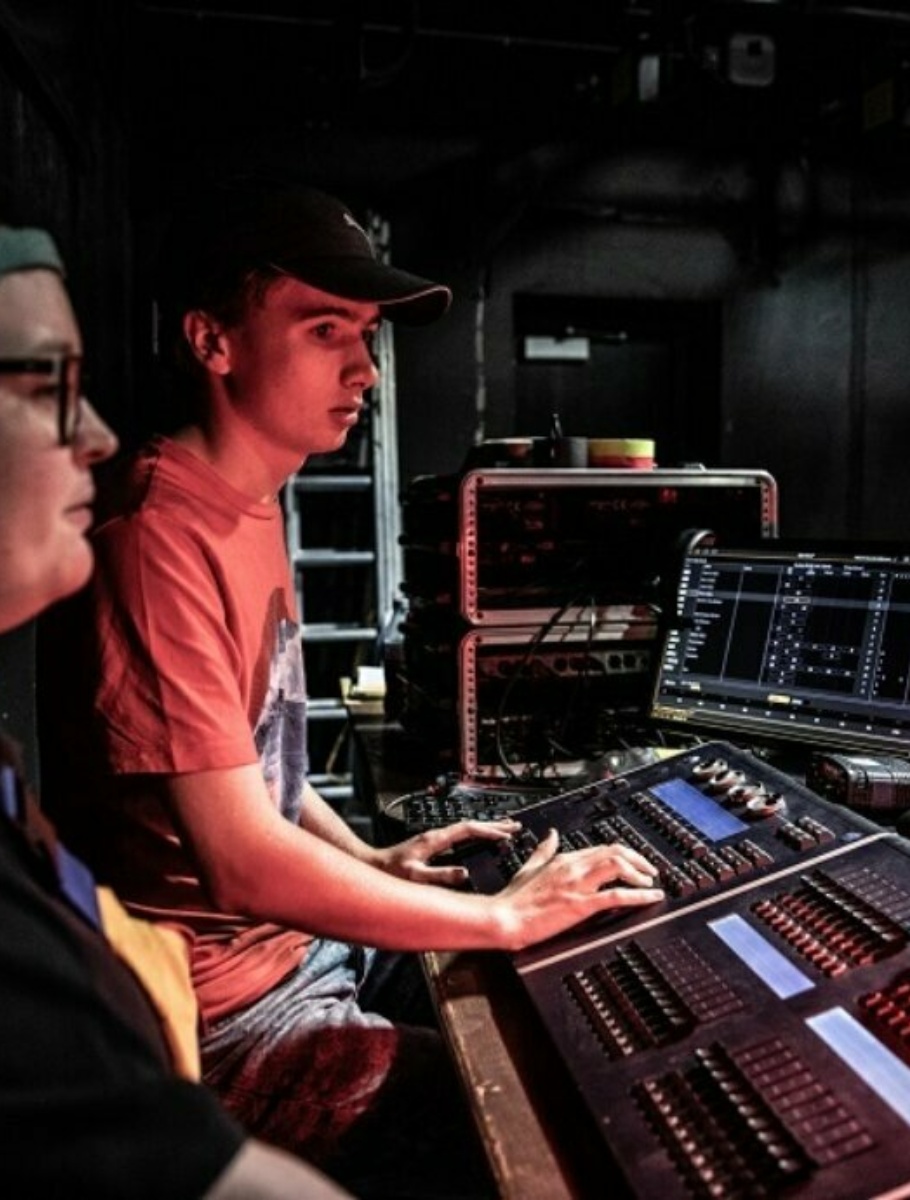 ETC Eos Console Training - Galway and Dublin - December 2023
Performances
ETC Training - Galway and Dublin

Box Office
If you have any further questions or wish to book over the phone, call us on +353 (0) 1 896 2559
ETC Europe, PSI Production and The Lir Academy are proud to present a series of one-day ETC EOS family training sessions across Ireland at various levels.

ETC's Eos family of consoles provides power that is elegant, approachable, and scalable. These hands-on training events will give you the opportunity to explore first-hand the features and functions of these powerful control systems.
The sessions will include a hardware overview of Nomad, Element, Element 2, Ion, Ion Xe, Gio @5, Gio, Eos Ti and Apex consoles. During the courses you will be introduced to the basics and nuances of this high-level control system and you will leave with more confidence in using your ETC console.
We have recently restructured the Eos training model. We now provide: Eos Essentials (previously Level 1 and Level 2 combined), EOS Expanded (previously Level 3) and EOS Advanced (previously Level 4). An EOS Expert course if offered on request subject to demand.
We are keen to ensure that as many interested people can participate in these courses as possible.
In order to secure their place and attendance, we are requesting a €50 deposit or €30 for students/unemployed. This will be refunded within three working days of completion of the course.
Once you submit your form (see the link), you will see the payment links in the thank you message.
Places may be cancelled with no charge up to 3 working days before the event start time. Please email info@thelir.ie.
Places can be cancelled at a 50% charge 2 days before the event start time.
After that, the full deposit will be charged and also charged for no-shows.
Courses options for the December sessions are as follows. Each course is a one-day course.
Eos Essentials
Eos Expanded
Augment3d
Eos Amplify for Theatre
Networking

Accompanying training materials can be downloaded https://www.etcconnect.com/wor..
In an effort to be a green as possible we do not print manuals. We ask that participants have downloaded the
material in advance of the session.

Details on courses as follows:
Course details:

EOS Essentials - University of Galway - 04/12/2023 - 10am-6pm
EOS Essentials - University of Galway - 05/12/2023 - 10am-6pm
EOS Expanded - University of Galway - 06/12/2023 - 9am-5pm - 1 place left
Networking - University of Galway - 07/12/2023 - 9am-5pm
EOS Essentials - Lir Academy Dublin - 11/12/2023 - 9am-6pm (booked out - apply for waiting list)
EOS Expanded - Lir Academy Dublin - 12/12/2023 - 9am-6pm (booked out - apply for waiting list)
Amplify - Lir Academy Dublin - 13/12/2023 - 9am-6pm (booked out - apply for waiting list)
Networking - Lir Academy Dublin - 14/12/2023 - 9am-6pm (booked out - apply for waiting list)
Augment3d - Lir Academy Dublin - 15/12/2023 - 9am-5pm
Eos Essentials
The course will give you a solid foundation of console operation and prepare you to expand your skills. You'll learn about EOS's major functions and how to navigate the desks with ease. This course is intended for those with a background in lighting. It is suitable for those who have no experience with the EOS family series or for those who are self-taught looking to improve their proficiency.


You will learn about console philosophy, navigation and the core skills you need to be able to start programming your show. You will learn to work with and program both conventional and moving lights (including working with LED luminaires), channel control, recording and playback and data management.
Key concepts covered include:
• Patch conventional and multi-parameter fixtures
• Work with channels in Live mode
• Work with display navigation
• Record, select, and delete Groups
• Work with Submasters
• Record, play, and delete Cues
• Understand Tracking versus Cue Only as well as Block and Assert
• Control non-intensity parameters
• Apply additional cue features such as Delay, Auto-Follow and Loop
• Use Park efficiently
• Understand display layouts and workspaces
• Set up and use Direct Selects
• Record and recall Snapshots
Eos Expanded
This course is designed for those who are familiar with Eos®-family terminology, already know the layout of the desk. This class is intended to build on your knowledge, and make you faster. You will learn how to manage referenced data, the building blocks for any show. We will look at processes and build the skills you need as a programmer to be able to ensure a smooth and consistent workflow. You will learn to use effects, macros, marking and magic sheets in addition to a host of other tools and features.

Key concepts covered include:
• Record and recall Palettes and Presets
• Use advanced palette and preset modifiers
• Use advanced patch functions, such as copying and moving show data, editing fixture profiles, and
creating keywords
• Use advanced selection and manual control features
• Define and use Highlight, Lowlight, and custom RemDim
• Use the fan function on encoders, the command line, and for references
• Control multiple-intensity fixtures
• Use advanced cues, like Multipart, and multi-list
• Create and use Macros
• Understand and use Update, Mark, and other cue attributes
• Take advantage of Discrete Timing and Multipart cues
• Create and use Effects
• Create and use Magic Sheets
Augment3d
ETC's integrated 3D programming environment: Augment3d allows Eos users to control and design in a three-dimensional space. Augmen3d allows you to program from a new perspective. Control your rig more quickly and intuitively than ever before with the Augment3d programming environment. Focus lights with a click or a touch, preview your lighting looks in 3D space, and control
your rig from your phone using augmented reality.


This course will take you through the powerful programming tools and software advances, including how to add and focus fixtures in Augment3d, how to make use of Staging Mode in your Eos workflow, and how to take advantage of the integrated augmented reality technology in the Eos remote apps.
Key concepts covered include:
Creating and importing content into your Augment3d model
Navigating and editing the Augment3d mode
Working with conventional and intelligent fixtures

Staging Mode
Fixture Position Estimation
Focus wand
Networking
In this one-day course participants will learn about expanding your lighting network from DMX to an Ethernet based network. You will learn the process of setting up a network, the appropriate components, infrastructure, layout and management. There will be both theoretical and hands on opportunities.

The course will cover DMX & RDM, sACN & ArtNet and addressing. Participants will get an opportunity to set up an Eos network to replicate a production lighting network. We will add a Q-lab machine and examine OSC control.

Amplify
This course requires no prior networking knowledge but a basic understanding of lighting and Eos family is beneficial.
The course takes the skills and techniques learned in Level 1 & Level 2 console training and adds a new layer of context to the learning outcomes. When people attend the regular training, they often come away know how to record a Beam Palette, but not always knowing why they should and how the features that they have learned can help to speed up the programming process. Amplify aims to address this by offering the 'why' and not just the 'how'.

In order to attend an Amplify session, it is highly recommended that you have attended the Level 1 and Level 2 Basic Training offered by ETC and you should have been using the console for at least

6 months. Before your session, you will be sent an information package and you will be expected to prepare a show file that you will use in the Amplify sessions which you will need to bring along.

Please note that there will be no time in the Amplify session to create your show file – you will have to have prepared it in advance. We will also not be covering any of the training topics covered in Levels 1 & 2 training in this session.

By the end of the session attendees can hope to have:
Improved show file preparation skills
Be more efficient in the setup of the console before they start programming
Be a more proficient programmer
Vastly improved work flow
Tickets
Free - deposit will be refunded for attendance
Registration required