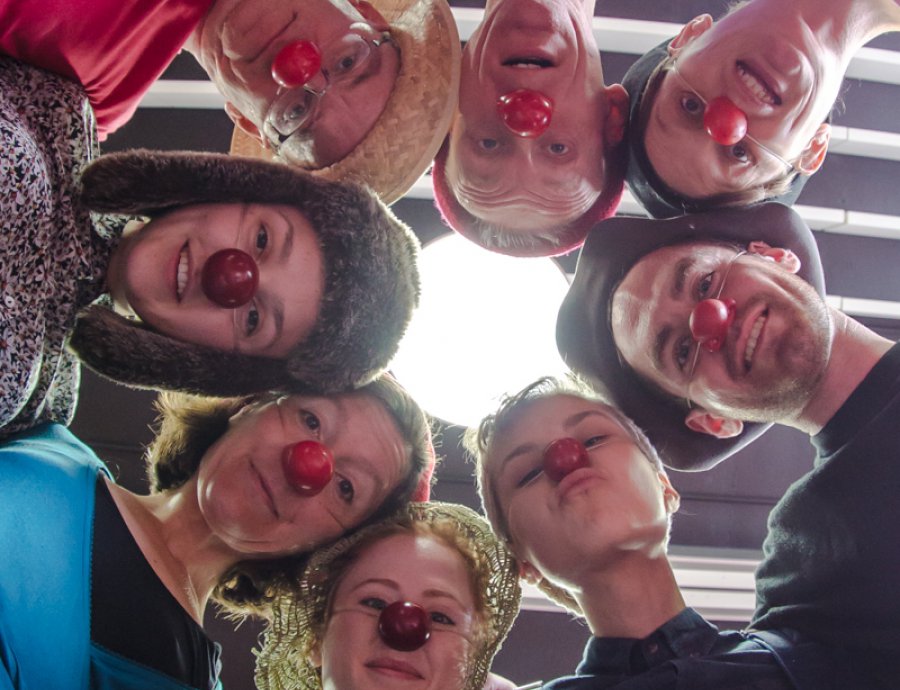 Short Courses / Acting
I A Clown
1 week / 10.00am - 5.00pm
A five day clown training course that will help you find your inner clown.
Course Information
Course Begins:
22/07/19
Duration:
1 week, 10.00am - 5.00pm
When:
Summer
Ages:
18+
Questions?
If you have any further questions, enquire and we'll contact you.
Overview
"In Native American Mythology they say there are six directions of the self, North, South, East, West, Above-Above and Below-Below and if we were to look at ourselves in all six directions at the same time we could only laugh at the beauty of our own ridiculousness"
Sue Morrison – Master Clown Teacher of Pochinko Method.

"There's a crack in everything that's how the light gets in" Leonard Cohen

Introduction to Theatre of Clown through The Mask of Four Temperaments and The Mask of Red Nose
The Mask of Four Temperaments - The constitutional types of the Four Temperaments, Choleric, Sanguine, Phlegmatic and Melancholic, manifest in the shape and rhythm of the human being. Connected to the four elements and the medieval 'four humours', exploring these extreme approaches to life aiming to increase our flexibility and range of physical and vocal expression.
The Red Nose is the Mask behind and through which is revealed the very essence of our being in all its greatness and in all its fragility. The course will focus on a journey of unearthing each participant's individual clown.
The goal is to gain understanding and practice of the clown state, what it is to be 'authentically present' and how to bring that authentic presence into play.
Cancellation Policy click to
The full course fee is payable as acceptance of an offer of a place on the course.
In the event of a cancellation more than one month prior to the course start date, a forfeiture of €250 (on courses priced at €1,000+) or the total course fee (on courses priced below €1,000) will be retained to cover administration costs.
A withdrawal less than one month before the course start date will result in the forfeiture of the entire fee.
Please note, acceptance onto the course is at the discretion of The Lir Academy. If The Lir feels for whatever reason that a participant is not suitable for the course, he/she will not be accepted. All decisions are final and not subject to appeal.
Insurance click to
It is strongly recommended that all participants insure themselves to cover the loss of fees in the event of illness, for which The Lir Academy cannot accept any liability.
"
"I am indebted to Raymond, the course and my fellow participants for this incredibly accepting, transformative and invaluable experience."
Rachael