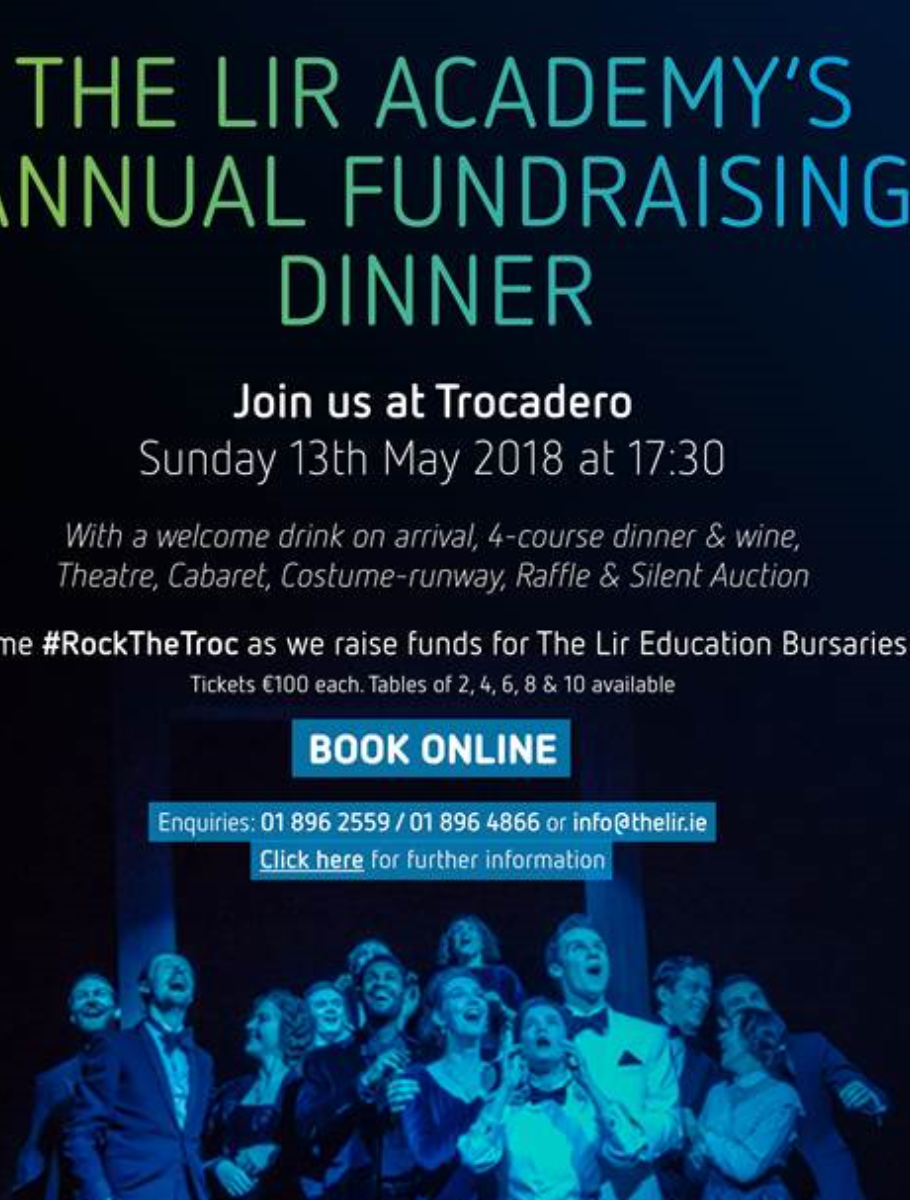 The Lir's Fundraising Dinner at Trocadero 2018
Performances
Please see ticket information below for dates.
Box Office
If you have any further questions or wish to book over the phone, call us on +353 (0) 1 896 2559
This is the one night in the year when The Lir Academy takes over the Troc. We serve theatre performances alongside each course as our final-year acting students perform monologues and duologues directly at your table. The evening is packed with performances in each area of the restaurant alongside a costume runway, prize-draw and silent auction. After dinner, guests are invited into the Troc's Bar for cabaret classics performed by students, graduates and guests.
Date: Sunday 13th May 2018
Start time: 17:30
Venue: Trocadero, St Andrew's Street, Dublin 2
* * *
Tickets are €100 per person and includes:
A welcome drink on arrival courtesy of Distinctive Drinks
4-course menu with wine throughout
Finishing with a Bonac G&T courtesy of Distinctive Drinks
* * *
BOOK YOUR TABLE
Tables of 2, 4, 6, 8 & 10 available & individuals are seated at larger mixed tables.
We invite you to book your table online below. When paying for the items in your cart, please insert your seating requirements in the 'Your Comments' section provided. Alternatively, please contact Eimear for special seating requests and all other enquiries:
E: eimear.chaomhanach@thelir.ie
T: 01 896 4866
CANNOT ATTEND BUT WOULD LIKE TO SUPPORT?
If you would like to support The Lir's Annual Fundraising Dinner but cannot attend on the night, the option is there to 'Sponsor A Seat'. In previous years, we have invited Lir grads and alumni to take a sponsored seat and join a table. They share their experiences having trained at The Lir Academy and it often opens-up all kinds of interesting relationships and opportunities for our young actors starting out.
0-0-0-0-0-0-0-0-0-0-0-0-0-0-0-0-0-0-0-0-0-0-0-0-0-0-0-0-0-0-0-0-0-0-0-0-0
SILENT AUCTION & RAFFLE PRIZES:
This year, we are opening-up our Silent Auction to peoples' bids in advance of the event in Trocadero.
** U2 AT 3ARENA **
This is now a sold-out show, but thanks to 3Arena we have the magnificent prize of 2 premium seated tickets for U2 at 3Arena on Monday 5th November 2018. This prize also entitles the highest bidder to a dinner for 2 and a bottle of wine at the 1878 Private Members Club at 3Arena before the show.
**ELECTRIC PICNIC 2018**
An Electric Picnic weekend could still be yours! We have 2 tickets up for grabs to the sold-out EP2018.
PLACE YOUR BID!
Simply email your bid now to: eimear.chaomhanach@thelir.ie
(Please insert "U2 Bid" or "EP Bid" in Subject Title)
Outside bidding terminates 5pm Friday 11th May. The winner will be announced at our Fundraising Dinner in Trocadero, Sunday 13 May.
WHY WE ARE FUNDRAISING
Proceeds raised will go towards improving production values of final-year theatre performances as well as The Lir's Education Bursary scheme. Bursaries enables The Lir to provide financial support for socio-economically disadvantaged students who otherwise would not have the capacity to accept their place at The Lir and fulfil their potential. Trocadero have generously sponsored the food and Distinctive Drinks have generously sponsored the drinks. In addition to the ticket-price of €100, we aim to generate funds via our raffle and silent auction. Every contribution will be invested into The Lir's Education Bursaries and towards raising the quality of productions at The Lir so that each student is trained to an international standard of excellence. Thank-you for your support of Ireland's National Academy of Dramatic Art at Trinity College Dublin.
NEW SPONSORSHIP PARTNER:
We are delighted to announce our partner, DISTINCTIVE DRINKS, who have generously sponsored all drinks this evening.

Visit OUR GALLERY to view snaps from last year's event at Trocadero.