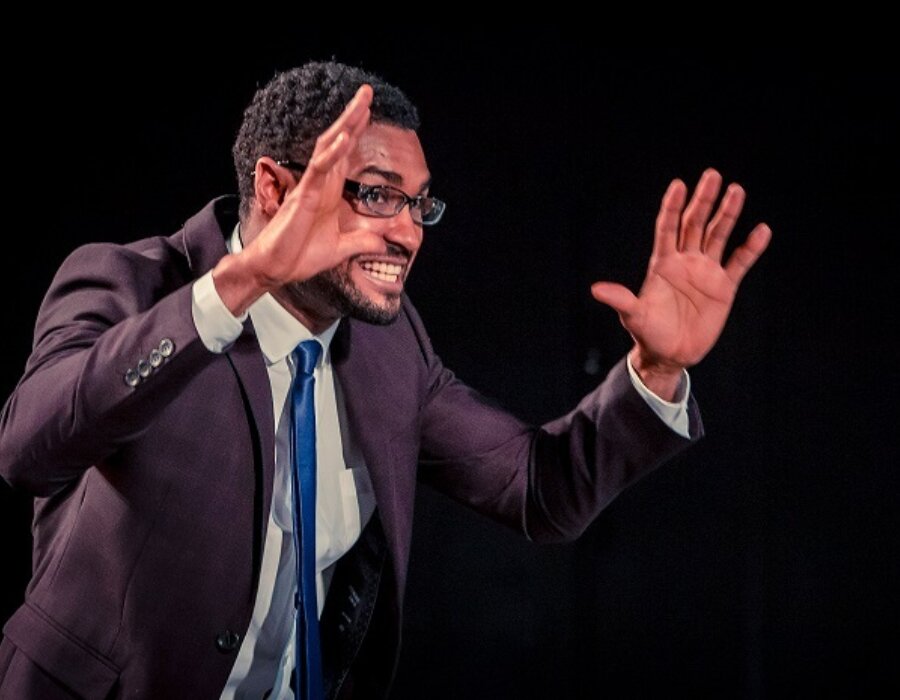 Casting Calls & Audition Opportunities
Casting Calls will be posted here...
---
Casting: Casting is now open for our upcoming tour of a brand new play with music: "A Very Odd Birthday Party" by Hannah Donelon! All actors must submit a self-tape for the character they're auditioning for.
Deadline for submission: 3rd July 10 pm.
Location: Greater Manchester Area
Fee: £500 p/w
How to apply: Please upload self-tapes to Vimeo or Youtube and send the link to hawkseedtheatre@gmail.com with the subject title: AVOBP casting
More information is available here.
The audition pack is available here.

---
Audition: TV Commerical: We are looking for three lads who love slagging each other and having the craic! We are inviting individuals, small groups and couples to apply but are VERY keen to talk to real groups of friends - Either with acting experience or first-timers who just want to have a laugh with their friends.
Dates: Casting June 29th, Wardrobe 5th July, Shoot Date 8th July
Fee: €2,000, all in usage for one year. RTÉ TV, online, print and social
How to apply: Submit a self-tape to louise@motherland.ie. Audition instructions and a casting brief are available below.
Audition instructions and character brief
---
Sharky & George are a creative events company specialising in immersive experiences, plays and corporate events for children and adults. They are on the lookout for new performers to join their roster of talent.
If you are interested, please email roo@sharkyandgeorge.co.uk.
For more information check out their website.

---
Claire Kinnen, is looking for a female actor late 20's / early 30's to perform and read her new poem on film this July.
If interested please email: clkinnen@gmail.com. You can see examples of Claire's previous work here.
This is a paid position.
---
Spotlight productions are currently casting and hiring for a new production which takes place within the Trinity College grounds this Summer.
Email: auditions@spotlight.ie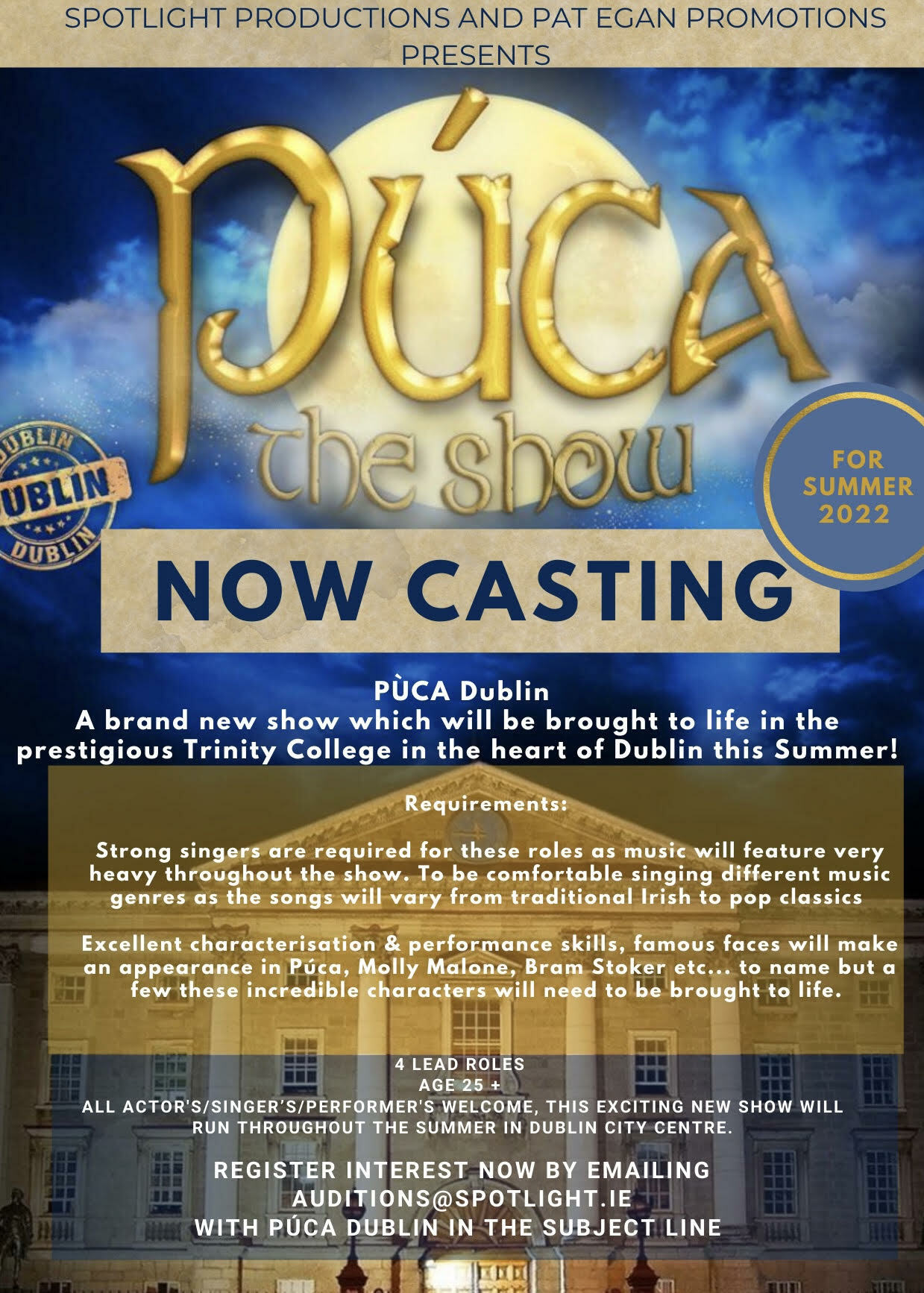 ---
We received this following email...
My name is Cornelia Carey and I am working on a community mental health team in Ashbourne. We are working as part of a new model of care for people with psychosis. The launch of the service is on the 12th May. None of the service users or family members are comfortable speaking at the event as it is so local. However, two family members and two service users are willing to write about their experience and for this to be read out anonymously on a video recording at the event.
We will need two male and two female actors, ideally one man and one woman in their 20s/30s to read out the service user's experience, then one man and one woman in their 50s/60s to read out the family's feedback. We would like these to be video recordings that we can play at the launch, so the actors do not need to physically attend the event. Each recording should take less than five minutes plus preparation time.
We will pay - could you let us know your fee? Also, would it be possible for the actors to do their own recording and send it to us for editing? Apologies, we are new to this and we're not sure how best to go about it!
---
Ros na Rún is looking for new talent for its exciting storylines for season 27 which commences filming in an Spidéal in Connemara in August 2022.


Ros na Rún is planning to hold auditions throughout the country in the coming weeks, being held in Galway, Dublin, Donegal and Kerry.
The first auditions will be held in Spiddal on the 23rd of April.
We plan on holding auditions in Dublin on the 3rd/4th of May, in Donegal on the 10th of May and finishing in Kerry.

They are looking for adults of all ages, male and female with Gaeilge to take part in these auditions.
Anyone interested in taking should send their CVs and information to info@rosarun.com with the desired audition location.
Various roles, key roles and other daily parts are up for grabs, so if there is a worry about time constraints let them know as this won't rule you out!

Alternatively, you can follow this link and someone will be in touch:https://rosnarun.com/teagmhail/


---
Starcamp are currently hiring Camp Leaders & Managers for Summer 2022!
Starcamp are looking to hire approx. 500 students from across the country for our 2022 season. Their camps are getting bigger and better each year and they have found themselves hiring more and more students to accommodate this. 2022 will see the highest number of staff hired ever.
Starcamps will be running their award-winning summer camps in over 250 locations nationwide across 8 weeks of the summer holidays, from the 4th of July until the 26th of August 2022. Camps run from 9am - 2.30pm daily.
If interested you can apply via the following link - https://starcamp.ie/jobs/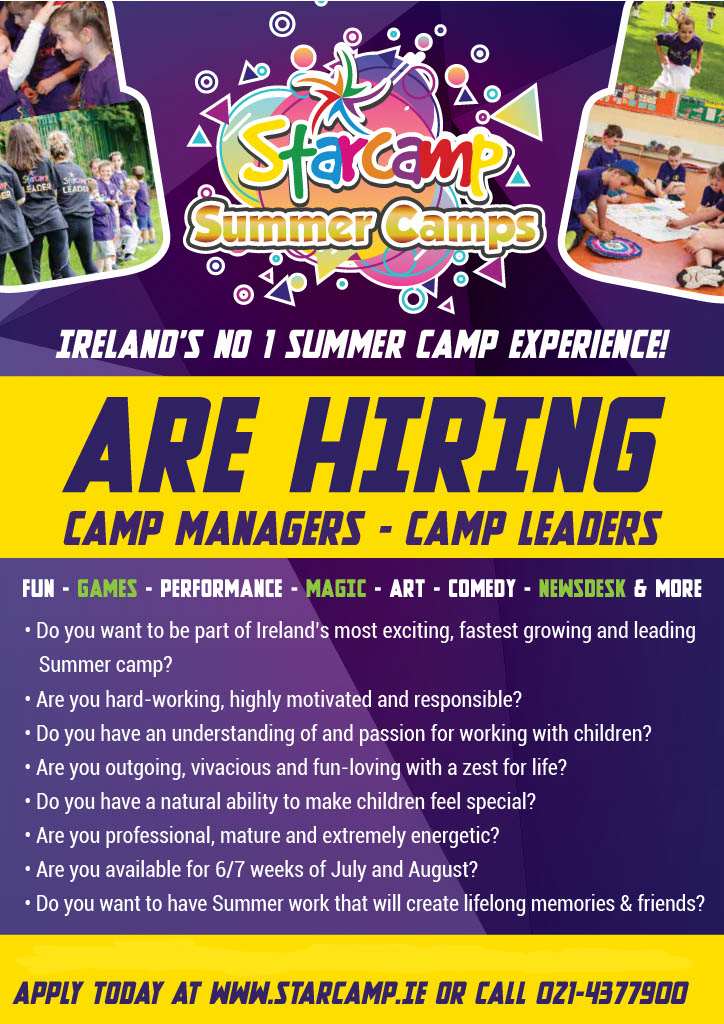 ---
ACTIVATE : POLLINATE : LIBERATE

Hive City Legacy is locked, loaded and ready to strike back! It's time to get in formation and bring together a league of extraordinary crew of femme Black artists and artists of Colour. Armed with a fresh coat of stories to sweep the stage, we are calling on the boundary breakers, the shape shifters and the movement makers to Seize The Mic. In partnership with Dublin Fringe Festival, International Creators Lisa Fa'alafi and Busty Beatz (Hot Brown Honey) are gathering a mobilised troop of WOC to build a new creative alliance set to explode the stage with the unseen, the unheard and the erased. In the tradition of decolonising one stage at a time, let's start the legacy to shift the paradigm in Ireland.

IMPORTANT DATES:

Auditions: Tuesday 31 May & Wednesday 1 June 2022
Creative Development & Rehearsal: Tuesday 2 August - Friday 9 September 2022
Dublin Fringe Festival performances: Friday 9 - Sunday 18 September 2022

All applicants must be based in Dublin for this period.

Link to the call out and application process: https://www.fringefest.com/new...

---
VIKINGS: VALHALLA - FILM EXTRAS WANTED - PAID WORK
We are looking for extras for the next season on the Netflix show Vikings: Valhalla. Filming will take place in and around Co. Wicklow from May through the summer this year.
We are looking for people of ALL ages, looks, shapes, sizes and backgrounds. No previous experience needed.
Please only get in touch if you are resident in Ireland.
To apply please email - extras@vhproductions.ie and request an application form.

---
Fibin Media callout
Looking for actors aged 17-22 for a children's programmes who can also sing.
See more at this notice.


---
Wanted - student for a special recording project
Pay - €14 per hour

I work at National Star, a UK charity providing specialist FE education for young people with complex disabilities and learning difficulties.
We have a young woman who uses an electronic device to communicate who we are helping source a voice donor for. There are few, if any age-appropriate, regional voices for communication devices. Many of the voices are middle-aged and not very appropriate if you are in your early 20s. We have helped several young people find suitable donors and have a voice that is their own.
The reason I am contacting you is that the student we are currently working with on the voice project wants a soft Dublin accent. Ideally, we look at people who are under the age of 30 to be donors. To be a donor requires a person to record 1,600-3,000 phrases which are then converted into a synthesized voice. Ideally, we would ask potential donors to record a standard set of phrases so that the student can listen to it with the support of a Speech and Language Therapist to pick the voice they prefer. It usually takes 1-2 days to record the 1800 phrases needed. We can be flexible around timings for recording to fit in with their other work.

If you are interested, please contact Marianne Sweet msweet@nationalstar.org. She'll get back to you with more details once you register your interest.
Some more info:

https://www.bbc.co.uk/news/av/...
This is one where we found a voice for a student from NI:
https://www.belfastlive.co.uk/...


---
Open auditions with the Lyric Casting Director
The Lyric Theatre in Belfast is holding a series of Open Meetings on a weekly basis giving professional actors the opportunity to meet with the Lyric Theatre's casting director.
To find out more, including how to apply here: