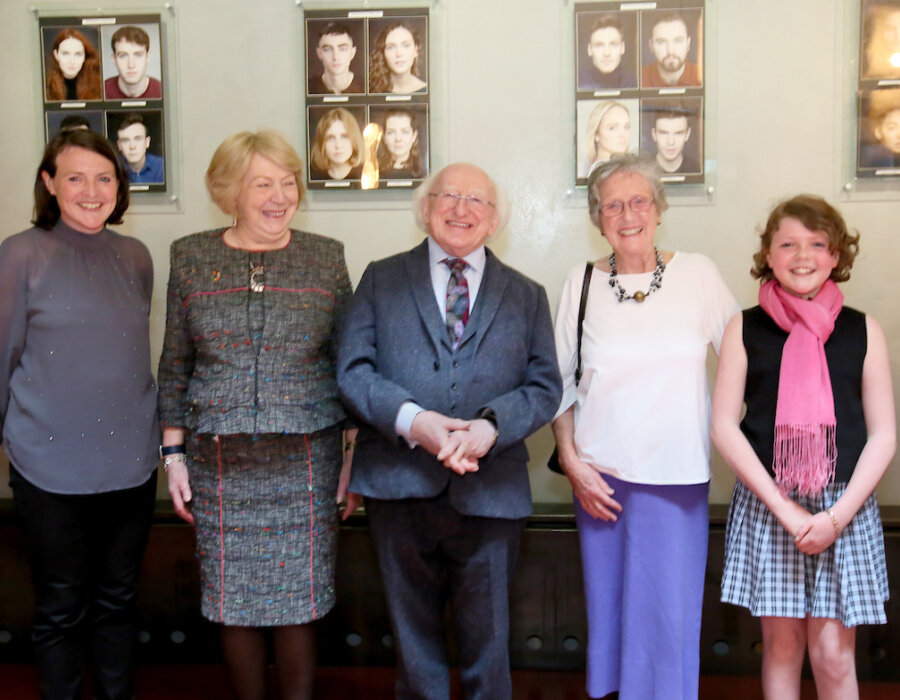 The Colm Ó Briain Endowment Fund is launched by President Michael D. Higgins at The Lir Academy
President Michael D. Higgins today launched a new endowment fund to support students at The Lir Academy. This fund has been made possible by the incredible generosity of the family of Colm Ó Briain, who created this fund in memory of him.
Colm Ó Briain was a lifelong supporter of theatre and drama through both his professional career and his commitment to supporting artistic practitioners. His passion and innovation in creating and producing new and established work has left a legacy on the Irish theatrical and broadcast landscape. Alongside his renowned work in policy making, he was a leading light, spearheading independent theatre and innovation working as both a director and actor, with a deep understanding of the artistic process. The Lir Academy is honoured to be part of ensuring that his legacy continues through the actions of his family to create real and meaningful support for young artists embarking on their exciting careers on stage and screen.
Colm Ó Briain was an avid champion of the arts and pursued that passion throughout his life through his leadership, advocacy and support of a vast range of cultural and artistic programmes. Trained as a barrister, his career took a different path as he held positions of note in the cultural, broadcast and political arenas. Among his many achievements, he was the first full-time director of the Arts Council and was instrumental in the creation of the Aosdána. He was also the arts advisor to Michael D Higgins as the first Minister for the Arts, which also saw the development of the first arts plan for the country. Colm had a keen interest in arts education and was a former director of the National College of Arts and Design.
The Colm Ó Briain Endowment Fund will have a particular focus on Acting, Directing and Playwrighting, and this financial support will have a direct impact on the lives and work of our students and graduates. This will be through an annual €10,000 Colm Ó Briain Scholarship to be awarded each year to a student on our BA in Acting or our MFA in Theatre Directing programmes. As part of the endowment fund, we will also create the €5,000 Roger McHugh Award with a specific focus on playwriting, honouring the memory of the Irish playwright and academic, late father of Colm's wife Muireann Ó Briain.
Director Loughlin Deegan spoke on the enormous impact that this endowment fund will have by stating that "This kind of support is an extraordinary recognition by Colm Ó Briain's family of the work we undertake at The Lir Academy and the importance of supporting people of all backgrounds and abilities to pursue their ambitions in creative careers. We are extremely grateful to Colm's family, particularly his wife Muireann for this remarkable gift."
Chair of The Lir Academy, James Hickey noted that "The timing of the Colm Ó Briain Endowment Fund coincides with the start of The Lir Academy's new five-year strategy. This support will greatly assist us in realising aspects of that strategic ambition, particularly around increasing access to our programmes through financial support. We are deeply committed to ensuring that this fund continues the legacy of Colm Ó Briain's vision for the arts."
Speaking on behalf of the family, Seona and Aisling Ni Briain commented that "Our father was all about supporting young creative talent - this endowment is exactly what he would have wanted, encouraging emerging creatives to train towards their professional careers."
Acknowledging the launch of the fund, the President noted "Colm Ó Briain was a man I was fortunate to have been able to call a close friend, a colleague and a comrade. While his service to the arts and its practitioners was a defining characteristic of his life, and while that generous service was a greatly distinguished one, it was the courageous breaking of ground
for which Colm will be remembered, and, above all, being unafraid to push the boundaries. In so doing, he made many unique and exceptional contributions to Irish culture policy. Colm aimed to construct an Ireland that would be shaped to accommodate artistic expression in all its capacities and its diversity, and also the livelihoods that make it possible. Today he continues to impact on the world of arts and culture, through this greatly generous endowment gift offered to The Lir Academy by Colm's family. What better way to remember the generous, creative and visionary man that was Colm Ó Briain."
For more information on this and other Lir bursaries and funds, please contact our Director of Development, Joanne O'Hagan - joanne.ohagan@thelir.ie