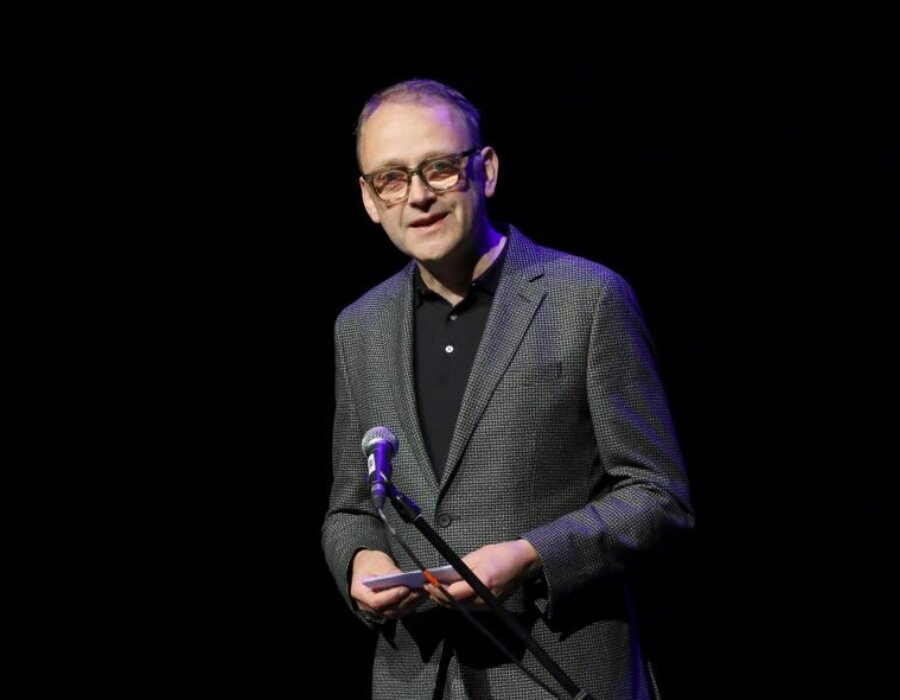 Director of The Lir, National Academy of Dramatic Art to step down after 12 years at the helm.
After twelve years in the role Loughlin Deegan has announced that he plans to step down as Director/CEO of The Lir, National Academy of Dramatic Art at Trinity College Dublin.
At a meeting last week, he informed the Board of the Academy of his intention to step down at the end of the current academic year. Mr Deegan will remain in the post until September 2023 to facilitate a comprehensive handover with his successor.
Loughlin Deegan was the founding Director of The Lir Academy, appointed in advance of the school opening in September 2011. He was previously Artistic Director of Dublin Theatre Festival from 2007 to 2011. During his time as Director of The Lir, he also served a five-year term as a member of The Arts Council from 2016 to 2021.
Speaking on the announcement of his planned departure, Loughlin Deegan said:
"Leading the establishment of The Lir was the greatest privilege of my professional life. Working with extraordinarily dedicated colleagues, our brilliant teaching staff, a committed Board - with the might of Trinity College Dublin at our backs - we established something very special together: a creative community dedicated to offering the highest standard conservatoire training to our inspirationally talented students.
The ongoing success of our graduates, across all disciplines, is all the thanks that is needed for these efforts. The Lir now has solid foundations in place, an ambitious strategic plan to guide it forward and is safely back on a firm footing after facing down the challenges of Covid 19. I am convinced that this is the right time to hand over responsibility to a new Director who will bring renewed ambition, pedagogic focus, and artistic energy to the Academy as it enters its teenage years."
The Chair, of the Lir's Board of Directors, James Hickey, said:
"Loughlin has been the Director/CEO of The Lir, National Academy of Dramatic Art at Trinity College Dublin since before it opened in 2011. Since then, he has been at the centre, as creative leader, in bringing the Lir to the highest levels of artistic excellence in conservatoire training for the careers of its students in the theatre, TV, film and the wider entertainment sectors.
The wide recognition across all of the creative arts of the very talented graduates of the Lir Academy is testament to his tireless dedication and commitment. The Lir will be forever in his debt for the extraordinary creative and pedagogic contributions he has made to the Lir and to the cultural life of the island of Ireland and worldwide, where graduates of the Lir are now working.
On behalf of the Board of the Lir Academy, I would like to thank him with all our hearts for his wonderful work over more than twelve years. I also want to express our gratitude to him for his commitment to staying with us till September 2023. This is so that we can complete the very exciting and challenging task of identifying and bringing into place his successor, to lead The Lir Academy forward in its ongoing mission to be a world-class conservatoire for creative and performing talent. Loughlin will be greatly missed by all of us, and we wish him every success in his future endeavours."
A recruitment process to appoint a new Director will begin early in the new year.
About The Lir Academy
The Lir National Academy of Dramatic Art at Trinity College Dublin was established because of a recognised need for an academy of excellence within the island of Ireland
The Lir Academy was established in 2011 to satisfy identified needs within the theatre, TV, and film industries. Offering a range of undergraduate, postgraduate, and short courses, The Lir Academy is successfully supplying the theatre, film, TV, and related industries with students who have been trained to the highest standards possible. All training from introductory level to degree level is taught by industry professionals who take immense pride in teaching their craft. Voice and movement training are core elements of the acting degree and are short courses on offer to established actors who are interested in improving their skills and to actors in training. Technical courses range from introductory courses in lighting, sound, stage management and costume, to the three-year bachelor's degree in Stage Management and Technical Theatre (SMTT).
The Lir Academy is synonymous with professional training in acting, voice, movement, stage management, stage construction, scenic art, lighting, sound, costume, playwriting, theatre directing and stage design.
The Lir Academy is housed in a custom-designed building with facilities catering to the range of training on offer and was founded through the generosity of the Cathal Ryan Trust working with Trinity College Dublin.

Graduates of The Lir
Since The Lir Academy opened its doors in 2011, it has trained over 500 actors, technicians, designers, directors, playwrights, stage managers and creatives to the highest professional standards.
The quality of the work produced by our graduates speaks for itself. It is evident in the success of actors like Alison Oliver (Conversations with Friends), Alex Murphy (The Young Offenders) and award-winning actor Paul Mescal, winner of a BAFTA and an IFTA, as well as nominations for a Primetime Emmy Award and a Critics' Choice Television Award for his portrayal of Connell in Normal People.
It can also be seen through the amazing work being done by our directing, design, playwriting and technical theatre graduates throughout the theatre, TV, and film industries, both at home and abroad.
Stage Management & Technical Theatre graduates from The Lir, work extensively in venues and festivals, including the Abbey Theatre, Bord Gais Energy Theatre, Dublin Theatre Festival, and include Phil Jennings, Technical Manager at the National Opera House in Wexford.
The work of graduates from our Master of Fine Arts (MFA) programmes is also evident throughout the theatre industry.
The work of Lir trained playwrights, including Clare McMahon whose new play The Gap Year debuted at the Lyric Theatre in Belfast earlier this year, can be seen on stages around the country. Gillian Greer's début play PETALS was nominated for the Irish Times Theatre Award for Best New Play in 2015 and her second play MEAT shortlisted for the Theatre503 International Playwriting Award. Gillian is Literary Manager at Soho Theatre, London and is currently also developing new work with the Abbey Theatre and 45 North Productions, London.
Directors graduating from our MFA programmes include Dublin Youth Theatre Artistic Director Davy Kelleher, whose directing credits also include productions for Dublin Theatre Festival, Edinburgh Fringe Festival, and Irish National Opera. Eoghan Carrick is an associate artist with Once Off Productions, associate director for productions with Landmark and Irish National Opera and was also an associate director with Corn Exchange Theatre Company from 2015 to 2020.
This year's Irish Times Theatre Awards honoured Stage Design graduates Pai Rathaya in the Best Set Design category and Sarah Foley for Best Costume. Their work, like many of our stage design graduates, continues to bring theatre to life for audiences across the county.