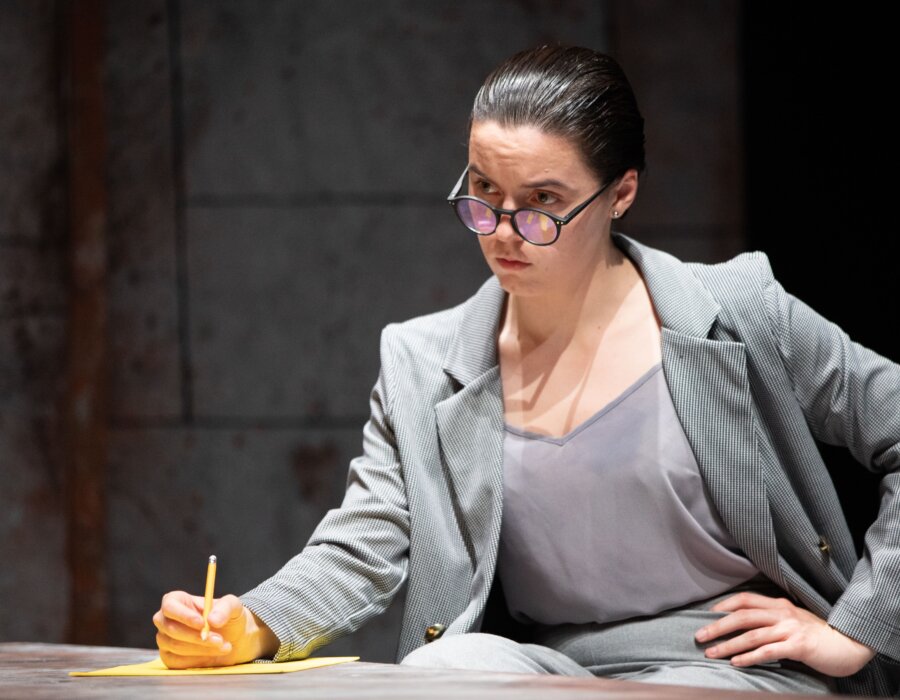 Jobs & Creative Opportunities
Job & Creative Opportunities will be posted here.
Summer Concert Stage Work Available - €15 per hour, zero-hour contract

Show Inc Production Services is looking for extra workers for our upcoming Summer festival season. This part-time work would suit students that might be interested in getting into specialised music industry event work in the future; it's a good opportunity to learn about and participate in the setting up of large concerts and festivals. Work at the likes of Slane and 3Arena concerts throughout June, as well as some other festivals and concerts throughout the Summer.The job is quite active, but there are no restrictions to it; manual handling training will be provided, and you don't just have to be a 'big strong lad' to do it - everyone is welcome to apply.
€15 per hour for minimum 5 hour shifts. It's zero-hour contract stuff, so there's no guaranteed working hours per week, it's on an 'as needed' basis. The longer people can stick with it, the more reliable it tends to get.
Contact janinetweedie@showincuk.com for more info.

Dublin Arts and Human Rights Festival are seeking a Production Manager and Stage Manager
Date: 13 to 22 October 2023.
The main show to be presented is part of a project called States of Independence funded by The Arts Council Open call and the show may feature projections, installations, live performances happening in the Pump House, Dublin and in other venues including Rathfarnham Castle, and venues in Valentia Island, Clare and Donegal. In addition a number of other shows and events will be presented - schedule to be provided. The period for the live events is the festival dates from 13 to 22 October and the crew need to be available for these dates as well as pre-production and planning dates - see full details below.
Production Manager:
Planning: One Week in June or July - flexible
Planning and Production: Five weeks from 11 September to 13 October 2023.
Show Dates: 13 to 22 October 2023 - Ten days required
Wind Down and Tidy Up: One day 23 October 2023
Total 8 weeks at rate of 750 per week = 6,000
Stage Manager
( we are planning a show date in August two days to be confirmed)
Planning and Production: Five weeks from 11 September to 13 October 2023.
Show Dates: 13 to 22 October 2023 and one day returns etc on 23 October - Eleven days required
Total 7 weeks at rate of 750 per week = 5,250
The show dates can't change however we can have some flexibility please contact me if you are interested and we can discuss.
Sincerely,




Tours And Experiences Co-Ordinator (Permanent) - The Abbey Theatre
Location - Dublin
Salary/Benefits - Competitive Salary
Contract type - Permanent
Hours - Full Time
Hours per week - 40
Closing date - 29/05/2023
An opportunity exists for an experienced coordinator to develop and deliver innovative ancillary experiences at the Abbey Theatre, which includes workshops, talks, tours, and experiences for groups.The purpose of this role is:to deliver additional revenue to fund work on our stagesto enhance the brand reputation of the Abbeyto open the doors of our national theatre to a wider audienceto enhance the visitor experience by delivering unique complementary activitiesThe successful candidate will be responsible for increasing audience engagement, by offering experiences to meet audience demand. This person will link the work and resources of multiple departments, in a collaborative and commercial way.

PERSON SPECIFICATION
The post holder will have:
Experience in facilitating engaging audience experiences.
Knowledge of and a passion for the work of the national theatre and the productions on stage as well some knowledge of theatre styles, productions and writers.
Highest standards of professionalism and customer care.
Strong business acumen including a proven track record of delivering on targets
A positive and tenacious attitude and an unyielding passion for success.
Good attention to detail with strong organisational skills.
An adaptable approach with the ability to change tact to meet changing environments and needs.
A collaborative approach and strong interpersonal skills.
Openness to receiving direct feedback from manager, colleagues and clients.


Events Co-ordinator - The Abbey Theatre

Location - Dublin
Salary/Benefits - Competitive Salary
Contract type - Permanent
Hours - Full Time
Hours per week - 40
Closing date - 29/05/2023

The Abbey Theatre is looking for an experienced Event Coordinator. The ideal candidate is someone who thrives in a fast-paced environment and has the ability to coordinate a range of different events to an exceptional standard. It is a very varied role, with typical tasks including coordinating event schedules, solving challenges, adhering to event budgets, and reporting on the current state of the event to the Business Development Manager. This person will ensure that assigned events stay on track, making it a fulfilling and rewarding position. The ideal candidate will be expected to prepare and present regular progress updates to appropriate management channels, ensuring the innovation we seek is achieved. They will work closely cross departmentally to deliver on personal and organisational goals and objectives, in the context of the Abbey's overall mission and vision.
PERSON SPECIFICATION
At least two years' proven experience in event management, project management and/or customer service.
The ability to juggle multiple projects and priorities simultaneously in a fast-paced environment.
The ability to coordinate internal and external resources, ensuring projects remain within scope, schedule, and defined budgets.
Excellent communication skills and the ability to collaborate effectively with colleagues, other internal teams and external stakeholders.
Excellent administration and impeccable attention to detail.
Excellent people skills and the ability to inspire confidence in all interactions.
The ability to react calmly to change, innovate, and problem solve creatively.
A demonstrable passion for theatre and good working knowledge of the industry.
Learn more and apply: https://careers.abbeytheatre.i...
Casting Director - The Abbey Theatre
JOB TITLE: Casting Director
RESPONSIBLE TO: Artistic Director and Head of Producing
"to bring upon the stage the deeper emotions of Ireland".
The Abbey Theatre is Ireland's National Theatre, and a significant part of its role is to reflect our evolving cultural, political and social identity. We do this through the creation, development and production of theatre that seeks to interrogate, challenge, gather and inspire a nation and its people, locally, nationally and internationally. We've held this inimitable place in the Irish cultural landscape for over 116 years, since before the formation of the Irish state.
We are currently seeking an experienced Casting Director who will be responsible for casting all Abbey Theatre productions. The Casting Director will also be responsible for casting all public and private readings and workshops.
A key part of the remit for the position is to actively seek out new and emerging talent and support the Abbey's relationship with established actors. The Casting Director reports directly to the Artistic Director and the Head of Producing and will work within the Producing Department.
KEY RESPONSIBILITIES
The Casting Directors' responsibilities will include, but are not limited to the following:
Casting all Abbey Theatre productions and, when appropriate, co-productions.
Liaising with the play or project director, the directors of the theatre, the producers of the theatre, the actor or the actor's agent in bringing together the best possible cast for each show.
Being the key point of contact between the acting community and the Abbey Theatre.
Casting all Literary and New Work Initiatives.
Casting all readings, workshops, development initiatives (public and private).
Maintaining and updating the Casting Department's database and casting files.
Liaising with the theatre's management in adhering to salary budgets for each production.
Negotiating cast salaries and contracts within The Abbey Theatre's agreed pay scales.
Managing the engagement process from offer through to contract stage.
Attending productions in other theatres and when feasible, productions out of town and abroad.
Keeping abreast of emerging talent in theatre schools both in Ireland and the UK.
Arranging and facilitating general auditions on an annual basis.
Maintaining a good working relationship between the Abbey Theatre, actors and their agents, freelance directors, Irish Actors' Equity and other casting professionals both here and abroad.
PERSON SPECIFICATION
The post holder will have:
A passion for theatre and the Arts.
Experience with and understanding of the casting process.
The ability to investigate a play and its characters for casting breakdowns.
Proven organisation and administration skills.
A track record in being proactive, creative, intuitive and rigorous.
Experience in management of an Assistant/Associate.
Good computer skills.
Excellent interpersonal/communication skills.
Excellent negotiation skills.
Good project planning/project management skills.
A facility for the communication - and assimilation - of creative language.
A desire and facility for developing and maintaining creative relationships.
A record of carrying out all work with absolute discretion and confidentiality.
Demonstrable ability to excel in developing interpersonal relationships with a broad range of stakeholders.
Experience of designing contracts, budgeting, negotiations and financial management.
Knowledge of industry contracts and pay scales across different media.
Self-motivated with a detail orientated work ethic.
The ability to work in a pressurised environment.
The ability to work across many projects at any one time.
The ability to react to new ways of working i.e., pivoting online if necessary.
The ability to consistently meet strict deadlines.
APPLICATION PROCESS:
To apply, please send the below information:
Up to date CV
Cover Letter (Detailing why you are the right candidate for this role, why it appeals to you and what impact you see yourself having).
The closing date for external applications is 5pm on Wednesday 7th June
The Abbey Theatre is an equal opportunities employer.
Apply here: https://careers.abbeytheatre.i...
SQUEEZE IT: theatre + visual art + digital technology


We are pleased to announce that the Squeeze It 2023 competition is officially open and all participants will have the chance to win the Online Squeeze It Award and/or the Franco Jesurun Award.
The finalists selected for the Franco Jesurun Award by the jury plus the winner of the Online Squeeze It Award will attend a 3-days workshop and mentorship in Trieste, held by a qualified and international network of professionals.
The winners of the Franco Jesurun Award will have the unique opportunity to be directed by Vladimir Nikolić (Last solo exhibition: Walking With Water, Pavilion Serbia, 59th Venice Biennale, 2022).
PARTICIPATE
Join the community and help artists and young professionals to squeeze their talent!
Read here all the contest rules https://www.triestecontemporanea.it/en/bando/squeeze-it-4th-edition_eng


Job Opportunities
Out of Time Theatre are currently seeking the following for their upcoming production of Florian Zeller's 'The Father', coming to Smock Alley Theatre from July 10-15 next:
Stage Manager
Set Designer
Costume Designer
Hair and Makeup artist
Contact: outoftimetheatre@gmail.com
---
Jim McNaughton Artist Bursary
Since 2008 TileStyle have generously sponsored the Jim McNaughton / TileStyle €10,000 Bursary for Artists. The Bursary is awarded to an artist to allow them to further evolve their work, develop their craft and creative practices and help transform their ideas into realised works of art.
Learn more: https://www.businesstoarts.ie/...
---
Smock Alley Show

Out of Time Theatre are currently seeking the following for their upcoming production of Florian Zeller's 'The Father', coming to Smock Alley Theatre from July 10-15
-Stage Manager
-Set Designer
-Costume Designer
-Hair and Makeup artist
If interested, please email outoftimetheatre@gmail.com for more information.
---
Assistant Head of Lighting - Arena Touring Show - CORTEO
Contract: Full-time & on site
Location: Los Angeles, CA

Find more & apply here: https://jobs.lever.co/cirquedu...
---


Lighting & Technical Manager

When: Performances happening late November/Early December 2023
Where: Dlr Lexicon Studio Theatre

http://venuehire.dlrlexicon.ie/studio.html
Please Contact for further details: Loretta Yurick, Co-Artistic Director, Dance Theatre of Ireland Dancetheatreireland@gmail.com www.dancetheatreireland.com

---
National Theatre Productions are recruiting a variety of roles for the West End transfer of The Crucible
Roles: Stage Manager / ASM (Book Cover), Resident Director, Sound No.1/No.2/No.3, Head of Wardrobe/Wardrobe Deputy/Wardrobe Assistant, Head of Wigs & Hair & Make-up, WH&M Assistant
If you would like to apply, visit https://jobs.nationaltheatre.o... for full descriptions and how to apply.
---

Warehouse Operator & Warehouse Operative with PSI Dublin

Where: PSI Dublin
Description: Full-TIme/Permanent, 8.30am-5.30pm, flexibility required
Please contact jobs@psiproduction.com for further details.

---

Starcamp are now hiring for both Leader and Manager roles for Easter and Summer 2023
Location: Multiple locations across the country
Date: Easter break + Summer from 3 July - 25 Aug, 9 am - 2.30 pm daily


They are looking to hire approx. 500 students from across the country for our 2023 season. They will be running their award-winning summer camps in over 250 locations nationwide across the 8 weeks of the summer holidays from the 3rd of July until the 25th of August 2023. Their camps run from 9am - 2.30pm daily so it really is the ideal summer job!
See all Easter and Summer locations here - https://starcamp.ie/booking-page/

Apply using this link - https://starcamp.ie/jobs/

---
Directors Needed - Kilkenny Arts Festival
Company: Barnstorm Theatre Company

Date: August
About the project:
The project is Voyeur Theatre during Kilkenny Arts Festival in Aug. It involves a number of writers over the past year under a strict brief of creating short plays for presentation on a park bench whereby the audience 'observe' the action from a distance through binoculars and sound in ear pieces.
The shows will have 2-3 actors and rehearse in Kilkenny (payment and accommodation provided). Each piece will perform over the 20 days of the festival which runs from 3-13 August.
Application: Email philip@barnstorm.ie with your CV for more info. This opportunity is paid.



---