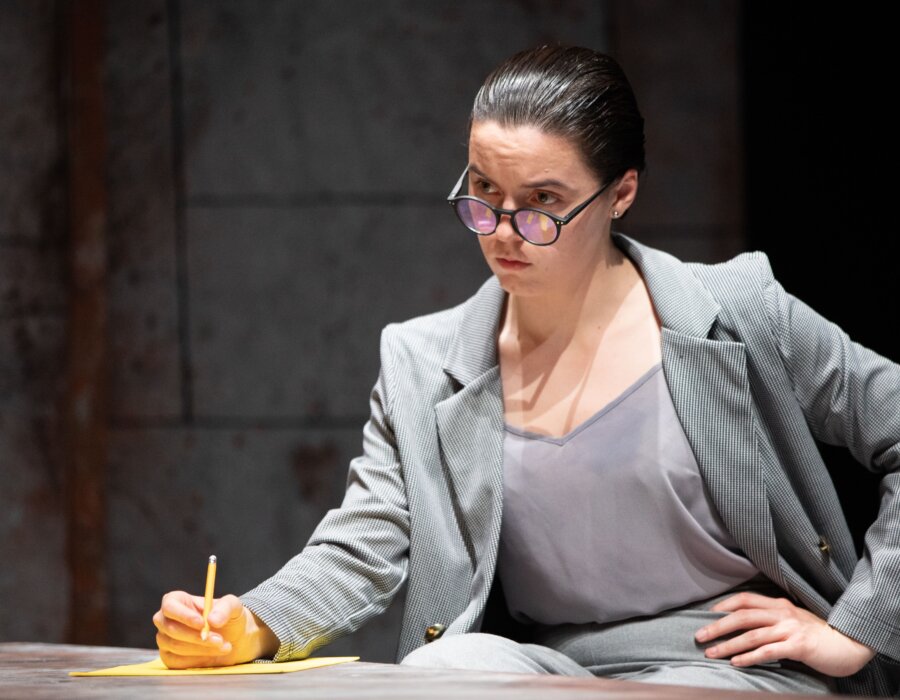 Jobs & Creative Opportunities
Job & Creative Opportunities will be posted here.
---
Opportunity: Set and Costume Designer
About: Set and Costume designer sought, for a period piece with Glass Mask Theatre this September.
How to apply: Please email Migle Ryan at glassmasktheatre@gmail.com for more information.
Fee: This is a paid opportunity
---
Opportunity: Scripts and Ideas Open Call: The Abbey Theatre
About: The Abbey Theatre is introducing a new 9-month submission window allowing the New Work Department more scope to consider and respond in a timelier way to the work writers and artists share with them.
Deadline for applications: October 31st 2022
How to apply: More information is available here
---
Opportunity: The 10th annual NEWvember New Plays Fesitval Call for submissions.
About: A festival of rehearsed readings of new plays that takes place over one weekend in Dublin, produced by the theatre company AboutFACE. Submitted plays should be previously unproduced, cast size of 2-8. Plays should have a running time of 30 to 120 minutes. One submission per writer each year.
Deadline for applications: Friday July 15th 2022 5pm
How to apply: Please submit your play via the online application form
More information is available here

---
Opportunity: PA / Runner positions within BiggerStage Media and Entertainment group.
About: Working alongside star talent.
Dates: Starting the week of the 27th June until July 20th.
Contact: artists@biggerstage.com to apply or for more information
---
Opportunity: Call for play submissions Cimentos 2023 New York
About: This program is open to authors from anywhere in the world with original works in English or Spanish who are interested in feedback from a New York audience. Playwrights accepted to the program, IATI Theater's artistic staff and other specially invited theatre professionals will converge in workshop meetings to discuss the new works that make up the particular season. The focus being in further advancing the text before it is presented in front of a live audience.
How to apply: Learn more and submit your work here
Deadline for applications: June 30th
---
Opportunity: Dublin Fringe Festival are looking for anyone interested in working in producing, design, backstage, production, technical or administrative capacity
Dates: July - September (Dublin Fringe runs from Sep 10th - 25th)
Contact: Willing Workers 2022 sign up form
Deadline for applications: ASAP

---
Opportunity: Mentorship and creative assistant opportunity to young people interested in design and technical areas
When: Career Development Workshops will take place in Dublin between July 16-31. Dublin Fringe Festival Creative Assistant roles will begin August 15/22 and finish Monday, September 19.
Youth Theatre Ireland and Dublin Fringe Festival are delighted to partner together to bring a wonderful mentorship and creative assistant opportunity to young people interested in design and technical areas of theatre this summer! The Creative Assistant positions are fixed term five week contracts with flexible part-time hours in consultation with the designer and producer across the rehearsal period. The fee will be €2200. You must be Dublin based/able to provide your own accommodation in Dublin for the duration of the production.
How to apply: To apply for the career development workshops and Creative Assistant positions please fill out this form: https://forms.office.com/r/QDH...
Deadline for applications: Wednesday June 15 at 9am, interviews begin the week of June 27 on Zoom.
---
Opportunity: Drama Teachers and Dance Teachers wanted (Geneva)
Simply Theatre is Switzerland's resident and professional English Speaking Theatre Company and Performing Arts School for children and young people. The company operates a production company, producing professional English theatre for children and families in Switzerland, and a drama academy, providing quality drama and performing arts training for ages four to eighteen and adult. We are always interested in hearing from incredible acting, singing or dance teachers to join our team at different points of the year, working in truly beautiful locations within a highly sought after and highly acclaimed theatre.
How to apply: Applications can be made on their website.
---
Opportunity: Cinemagic Young Filmmaker 2022 competition
Cinemagic is looking for imaginative and original films made by young people to be screened as part of CINEMAGIC YOUNG FILMMAKER 2022. The films can be about anything at all! ­Fact or fiction, comedy or drama, news programme or documentary. You must be aged 25 or under to enter. Find out more about the competition and how to apply.
Deadline for entries: 1 August 2022

---

Anna Moloney from, Kate Moylan Ltd, is looking for a Production Designer for their busy Summer period.
If you are interested please email anna.l.moloney@gmail.com

For more information: https://katemoylan.com/category/film/

---

Actavo Events is looking for the following (paid) positions to be filled for this summer:
Design Assistant with experience in AutoCAD (Part Time)
Starting ASAP until September 2022
Production/Administration Assistant for several large scale festivals in Ireland (Part Time)
Starting ASAP until September 2022
More info on Actavo: Events / Exhibitions / Festivals | Actavo
If you are interested please get in touch with fellow Lir Graduate Marchje at Marchje.jansen@actavo.com with a CV or if you have any questions.

---

Kristina Chun Writes...

I'm a hiring manager at Prompt, an online writing-tutoring company, and we are hiring new Writing Coaches for flexible, part-time, remote work.

We'll be closing our application in just a few weeks, so I wanted to make sure that anyone interested had a chance to apply. If you think this position might be a good fit for any of your instructors, students, or alumni, feel free to have them check out their job posting. As a note, we're flexible on when our Coaches can begin working, so applicants are able to apply now, even if they'd like to begin later in the summer.

---

Killian Coyle Writes
I am an independent Creative Producer / Actor, and part of the field:arts cohort which was recently set up under the Arts Council's new Creative Production Supports initiative.
As part of the support offered to me by field:arts, there is an opportunity for me to take on someone within a mentorship / trainee producer role — this is a paid position. It would also mean that the trainee would become part of field:arts cohort for the duration with access to resources such as Company Producer, Head of Production, consultation and training or workshops that coincide with the engagement. The only expectation that field:arts will place upon trainees will be to contribute feedback on their experience and how learning on the job worked for them — this will allow us to further improve processes.
We are currently ironing out the full details of the engagement but I was initially thinking that myself and the trainee would work together across 2 productions that are due to be presented back to back as part of DTF 2022 — Animal Farm by Louise White, and Decoys by Shaun Dunne.
Animal Farm by Louise White
Louise White is developing a contemporary and electric adaptation of George Orwell's Animal Farm. It is slated to premiere in Cork Everyman in August / September 2022 and will continue to Project Arts Centre, Space Upstairs for Dublin Theatre Festival 2022.
Animal Farm brilliantly examines the motifs of power and revolution. This production will examine inequality and the failures of the Irish State. It will take influence from the contemporary moment, sociology, pop culture, classic literature and post-dramatic theatre. It will be devised and adapted by the ensemble, using experimentation, theatricality and irreverence to explore questions of power and the ruling classes in Ireland.
(August to October 2022)
Decoys by Shaun DunneDecoys is a new work by documentary theatre artist Shaun Dunne, looking at the reintegration of sex offenders into the mainstream community.
Written and performed by Shaun, this piece is heavily informed by a period of time he spent in the UK, volunteering with organisations that work to equip convicted offenders towards community living.(Development in June 2022, with a presentation in both The Mermaid Arts Centre and Project Arts Centre Cube as part of DTF in October 2022)
If you'd like to discuss this further I would be happy to meet on Zoom over the coming weeks.

Email: killiancoyleproducer@gmail.com

----


Starcamp are currently hiring Camp Leaders & Managers for Summer 2022!
Starcamp are looking to hire approx. 500 students from across the country for our 2022 season. Their camps are getting bigger and better each year and they have found themselves hiring more and more students to accommodate this. 2022 will see the highest number of staff hired ever.
Starcamps will be running their award-winning summer camps in over 250 locations nationwide across 8 weeks of the summer holidays, from the 4th of July until the 26th of August 2022. Camps run from 9am - 2.30pm daily.
If interested you can apply via the following link - https://starcamp.ie/jobs/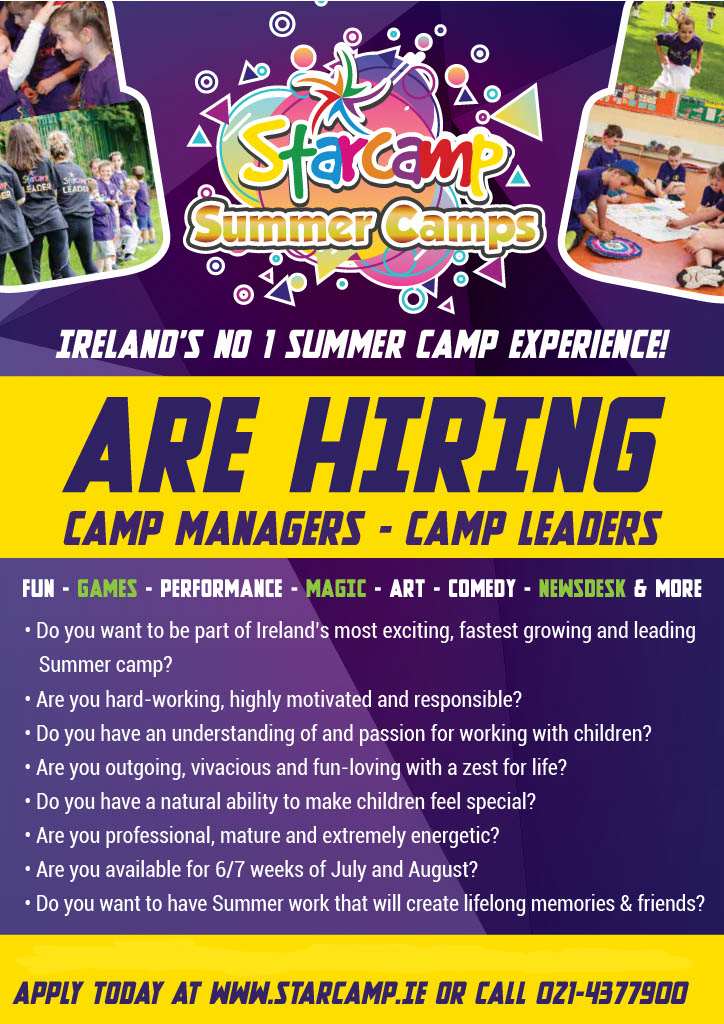 ----

Assistant Stage Manager required at The Gate Theatre
The shows are:
The Steward of Christendom by Sebastian Barry, directed by Louise Lowe.
Contact: Michelle King, Associate Producer - Michelle.King@gate-theatre.ie
----

The Draíocht Blanchardstown are seeking to build a team of casual technicians to assist with setups, the running of in-house events and takedowns on a rolling basis.
A basic rate of €17.50 is payable via invoice and subject to increased rates with specialised activities. Dates for the required technical staff to start are available immediately.

To get involved or to learn more, please contact Dylan on 0876746399 or by email dylan@draiocht.ie.