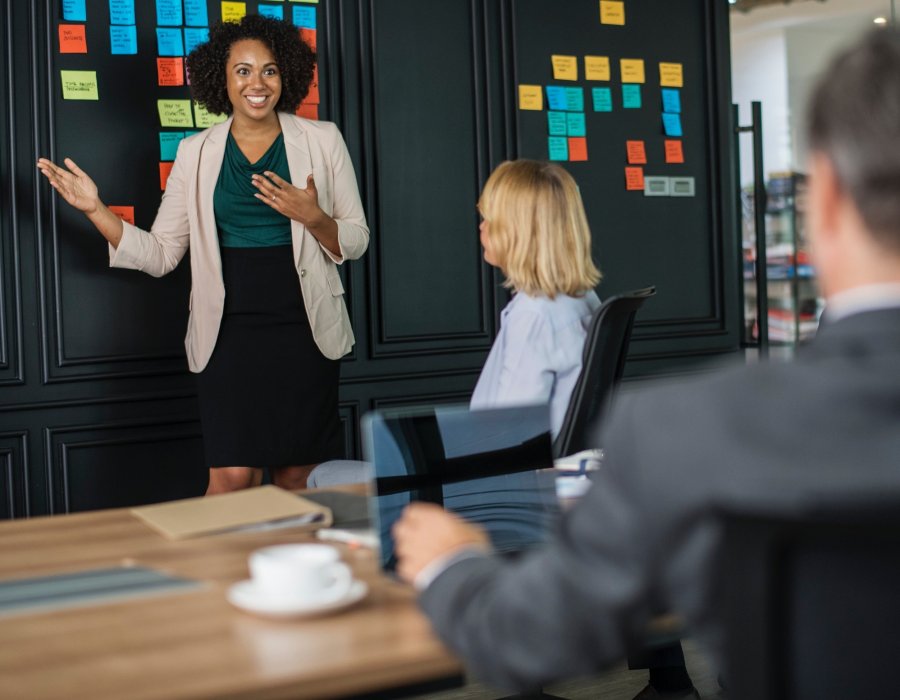 Presenting Made Brilliant with Carol Noakes
The Lir National Academy of Dramatic Art at Trinity College Dublin launches its inaugural 'The Lir At Work' corporate communications workshop series with Presenting Made Brilliant - a one day intensive workshop that invites people from the corporate world to master high level presentation skills, utilising the core techniques that has made The Lir Academy one of the leading dramatic art academies in the world.
Communication skills are an integral part of business life; and are essential to being heard, appreciated and recognised in the workplace. For the last three years The Lir Academy together with the Royal Academy of Dramatic Art (RADA) in London has been providing in-house corporate communications training to Irish businesses - through its The Lir at Work initiative. Designed to address a growing need in Ireland for practical courses that promote open and efficient communication in the workplace, for the first time The Lir Academy is inviting both individuals and companies into their training facility overlooking Grand Canal Quay to participate in a one-day open course - Presenting Made Brilliant; the first in a series of corporate communications workshops being offered to members of the public.
"We are delighted to launch our Open Course Series with Carol Noakes, one of RADA's most experienced & sought-after corporate communications tutors" says The Lir Academy's Commercial Director, Paul O'Connor. "The Open Course format provides an excellent opportunity for individual delegates to get a taste of our dynamic, practical training that goes far beyond standard presenting techniques - allowing them to truly and confidently connect with their audience".
Carol Noakes is a highly qualified voice and public speaking coach who holds a BA (Hons) in English Literature and Language and an MA in Voice studies from the Royal Central School of Speech and Drama. Before coaching became her passion, Carol was an actor in theatre, television, film and a presenter in the corporate environment. In Presenting Made Brilliant she will focus on the 'presenter' rather than content and prepare delegates to build a confident and credible presence even in highly pressured environments. The aim of this course is to impart the tools necessary to create memorable presentations - with minimum effort and maximum impact.
First introduced in 2017, The Lir At Work corporate workshops are based on the core techniques that allow actors, speakers and leaders to influence and stimulate audiences. With a training that focuses on the whole body, voice and breathing; delegates will learn to conquer nerves, build a powerful presence and find joy in sharing new ideas whatever their stage is. Presenting Made Brilliant will be the first of a series of open courses available from The Lir at Work - with future open courses to cover topics such as personal impact, storytelling for business and confidence building.
BOOK A PLACE ON PRESENTING MADE BRILLIANT HERE