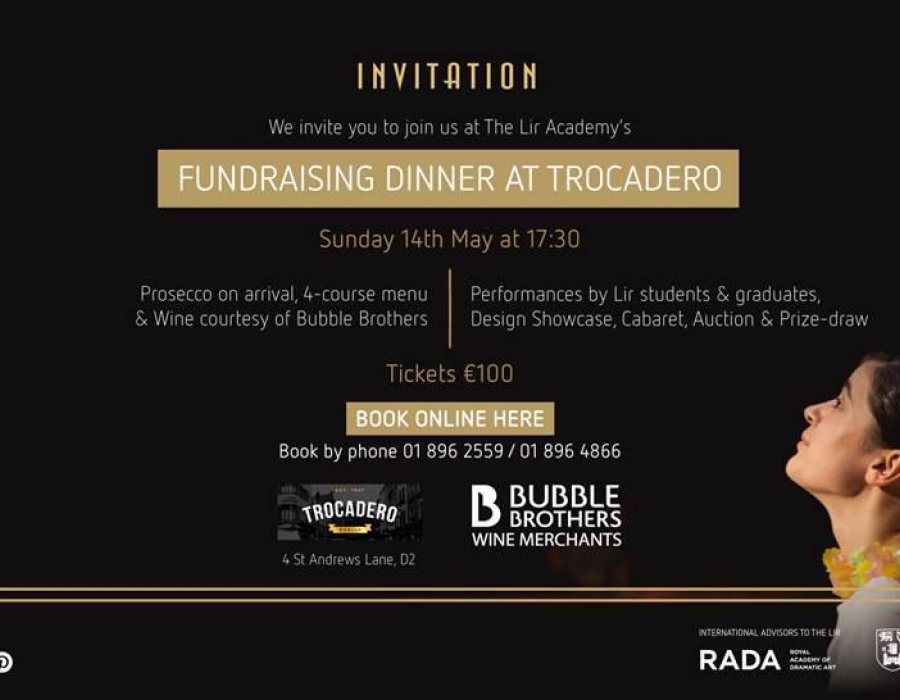 The Lir's Fundraising Dinner at Trocadero
The Lir returns to the Troc for a theatre-filled, fun evening with friends, supporters and colleagues.
We are delighted to return to Dublin's theatre restaurant Trocadero for The Lir Academy's second fundraising dinner.
With prosecco on arrival, student performances between courses and a mini-cabaret after dessert, this is a theatre-filled evening that celebrates Ireland's next generation of theatre-makers. As the Troc celebrates 60 years in Dublin, what better way to bring together Ireland's arts and theatre communities, spanning generations.
Your attendance and generous support will help raise funds for The Lir's Bursary scheme and raising production values of graduate shows. The Lir's Bursary scheme enables us enrol and educate the most talented young people who demonstrate potential, regardless of their financial circumstances.
Tickets are €100 each and includes:
Prosecco on arrival
4-Course Menu
Wine throughout courtesy of Bubble Brothers.
* * *
MC, Loughlin Deegan
Performances by students and graduates, directed by Eoghan Carrick.
Design Runway curated by Beatrise Leikuca.
Cabaret performances with music director, Morgan Cooke.
3 Prize-draws & Silent Auction.
* * *
SEATING PLAN
Tables of 2, 4, 6, 8 and 10 available.
For all special seating requirements please contact info@thelir.ie or 01 896 4866 / 01 896 2559
If you are unable to join us, you might like to Sponsor a Seat and we will give a special thanks to you and your company. Visit OUR GALLERY to view pics from last year's event