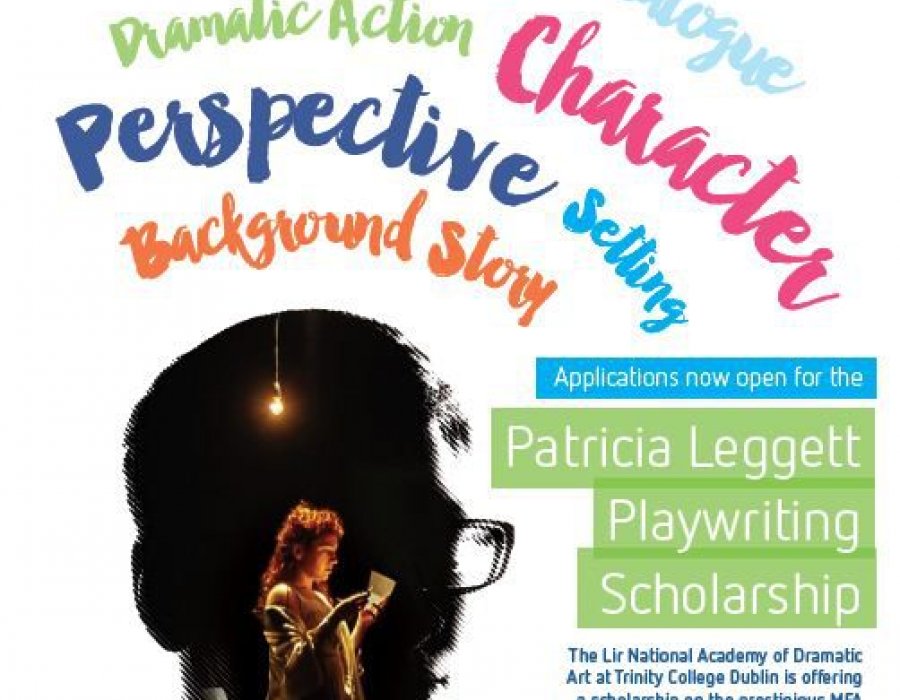 The Patricia Leggett Playwriting Scholarship is launched
We are delighted to announce the launch of a new scholarship for the Master in Fine Art in Playwriting at The Lir Academy – The Patricia Leggett Playwriting Scholarship
We are delighted to announce the launch of a new scholarship available at The Lir Academy - The Patricia Leggett Playwriting Scholarship. This scholarship encourages, nurtures and promotes the individual voice of the student writer. Under the expert guidance of Graham Whybrow (Head of Playwriting) training culminates in each student writing a full length play, contributing new writing to the theatrical landscape.
Applications are in the form of a 45 minute play (reading time) and must be submitted by end of June 2017. The successful applicant will take up a place on the full time MFA in Playwriting at The Lir Academy in September 2017.
It is with enormous gratitude that we thank Janet and James Curley for supporting The Lir Academy's Playwriting Scholarship and in so doing, are paying a heart-warming tribute to Janet Curley's mother (James' mother-in-law), Patricia Leggett. The Lir is honoured to associate and remember Patricia Leggett via this Playwriting Scholarship, where the legacy and inspiring life of Patricia Leggett is aptly remembered and recognized.
Patricia Leggett (nee Carbury) was born in Dublin (1936). Patricia was an outgoing, vibrant and adventurous young woman, who one weekend on a cycling trip was knocked off her bicycle by a bus resulting in the loss of a leg. After a short period of convalescence, Patricia resolved not to let this challenge deter her. Eager to occupy her time productively, she was an avid reader and quite the wordsmith. She wrote poetry, trained in speech and language therapy, was an arts-lover, theatre-goer and had a passion for ballet. In her private-life, as a volunteer counsellor and as one of the founders of an Amputee Support Group, Patricia demonstrated an immense sense of character, wisdom, empathy with a keen sense of humour.
Janet and James Curley are delighted that Patricia's name and legacy now lives on through the naming of this scholarship which gives the opportunity to young people to develop and hone their writing skills and possibly help, entertain and even change peoples' lives as much as Patricia did during her her life.
To read more about the life and legacy of Patricia Leggett please click here: Patricia_Leggett_Her_Legacy.pdf
To apply for The Patricia Leggett Playwriting Scholarship click here