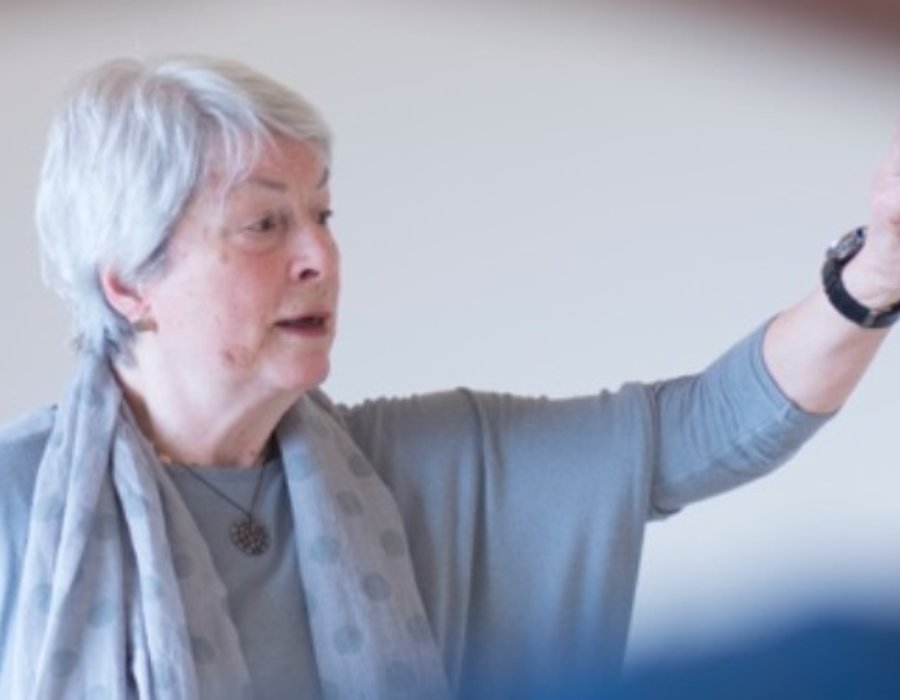 Tribute to Kristin Linklater
Head of Voice, Cathal Quinn pays tribute to the late Kristin Linklater.
Another great in the world of voice teaching has left us. Kristin Linklater was an inspirational and transformative teacher who gave her all to her craft.
After working with Iris Warren at LAMDA in the late1950s she moved to New York in the early 60s and worked also with Tyrone Guthrie in Minneapolis, opening the voices of her students and professional actors alike with her developments of Iris Warren's approach. Her seminal work appeared in 1976: Freeing the Natural Voice (which she revised in 2006) revolutionised voice training in the United States and had influence worldwide, combining an acute knowledge of anatomy with a need to connect emotionally with body, breath and impulse to make sound-based out of need, sloughing off bad habits and unnecessary tension and replacing them with a relaxed, grounded body capable of spontaneous and open release.
Kristin became professor emerita of Columbia University, NYC then retired to Orkney where she had been born, but was still active with residential workshops in Orkney and northern Britain up until last year.I was fortunate to take her workshops when Kristin came to Dublin in the summer of 1998 and it transformed my teaching; I embraced her style and blended it with my experience of other teachers plus my own nascent technique, using her practical exercises for body, breath and voice as my cornerstone for teaching and building from there.
Kristin herself had an extraordinary voice, a great example of the work she promulgated to thousands of students and professional actors throughout her long and stellar career.
Cathal Quinn
Head of Voice The Lir Academy