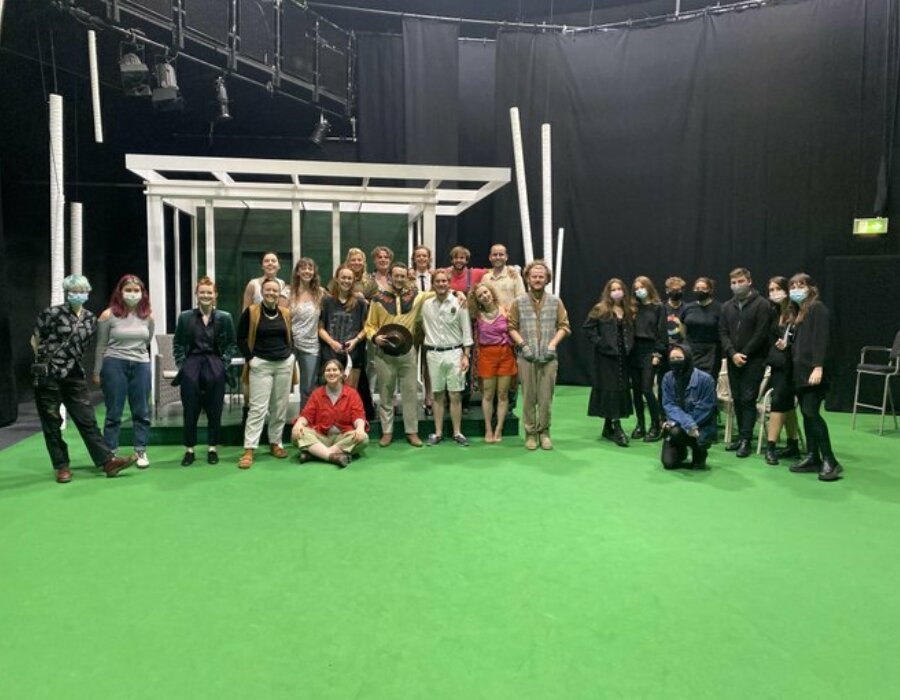 What's Going On?
A round-up of graduates activity. Send us your news, we love to share it!
This is only a smattering of activity that we know is going on. Please do get in touch about anything that you think you or your fellow grads are involved in that you think we should all know about! You can email updates to alumni@thelir.ie.
General and recent updates
Nominees are in for the Irish Times Irish Theatre Awards, Matthew Malone, Nominated for Best Actor in "Once Before I Go" (The Gate Theatre), Pai Rathaya (alongside Alyson Cummins), Nominated for "Best Set" "Volcano" (Luke Murphy's Attic Projects). Sarah Foley, Nominated for Best Costume "Masterclass" (Brokentalkers in collaboration with Adrienne Truscott) Aisling O'Mara, nominated for "Best New Play" "Next Please..." (Bewleys Café Theatre)

MFA grads Florentina Burcea and John Gunning are back in The Lir to work as part of the design team for The Laramie Project.

So many of our grads we involved in the recent Scene & Heard Festival - both in front and behind the scenes.
We also had a significant number of SMTT, Acting and MFA grads involved in Rough Magic's Rough Weekend too including: Grace Halton, Pai Rathaya. Cian Mulhall, Nicole Darragh, Grace Donnery, Fionntán Larney, Domhnall Herdman, Niamh McAllister, Kyle Hickson, Colin Campbell, Samantha Cade, Julie Crowe, CN Smith, Kwaku Fortune and Eanna Hardwicke...

Congrats to Kwaku Fortune and CN Smith who are participating in the new Fishamble & Irish Rep collaboration - 2022 Trans-Atlantic Commissions Programme.
Theatre Directing grad Davey Kelleher was recently announced as the new artistic director for Dublin Youth Theatre.
Currently and coming in production

Sarah Morris stars in Constellations at the Gate Theatre - premiering in May.

Eftychia Spyridaki has been announced as Dead Centre's first ever associate artist.

Siofra Nic Liam (SMTT) is currently working on The Chronicles of Oggle and Liz Roche Dance Company
Fiona Craddock is ASM on Privilege! The Musical.
Gavin Kennedy is on tour with Dead Centre.
Laura Rainsford is working as the Tech Manager for Cois Ceim's new space in Fairview.
Daire Cavanagh is working at an events company Event Partner.
Evan Keogh is working on Dancing with the Stars.
Veronica Foo, Rory Donnelly and Maeubh Brennan are all working on the latest Gate Theatre production - Endgame.
Katie O'Halloran directs Tir na nOig for The Mill Theatre this summer.
Currently and coming soon on stage and screen...

Meadhbh McHugh is part of writing team for Conversations With Friends which is premiering over on Hulu this May 15th.

Naoise Dunbar, Tiernan Messit Greene and Eilish McLaughlin all of whom are performing in "The Cavalcaders" which opens in Galway next month before embarking on a nationwide tour.
Matt Burke who is Lighting Designer for "Òwe", which is running all this weekend in The Irish Arts Center, New York
Patrick Martins is starring in "An Octoroon" in the Abbey Theatre

Clinton Liberty stars in upcoming ITV drama Holding written by Graham Norton. You can also see him in RTE drama Russian Election and Smother on the RTE Player.
Adam Richardson is starring in new drama The Dry also featuring Oscar-nominee Ciarán Hinds as well as Pam Boyd and Roisin Gallagher. Catch it on RTE

Naoise Dunbar has joined the cast of Outrage by Deirdre Kinehan, presented by Fishamble.

Alison Oliver stars in Conversations With Friends - airing on RTE in April and been cast in the new BBC Drama Best Interests which is set to air next year.
Frank Blake has written and performs in the IFTA nominated The Passion. He performs in the upcoming second season of Sandition and Vikings: Valhalla.
Aggie O'Casey has roles in the upcoming Dangerous Liaisons, Uncle Silas and Longbourn
Vanessa Emme is in The Observer Effect as part of Shortscreen on the RTE Player.
Paul Mescal will be seen in the upcoming features Foe, Carmen and God's Creatures.
Ruairi O'Connor is in The Morning Show, streaming now on Apple TV.
Katie Honan performs in How To Fall Flat On Your Face.
Katherine Devlin can be seen in the upcoming Blue Lights for BBC.
Zara Devlin performs in The Lonesome West in the Gaiety.
Eanna Hardwicke can be seen in the upcoming About Joan with Stanley Tucci and Isabelle Huppert.