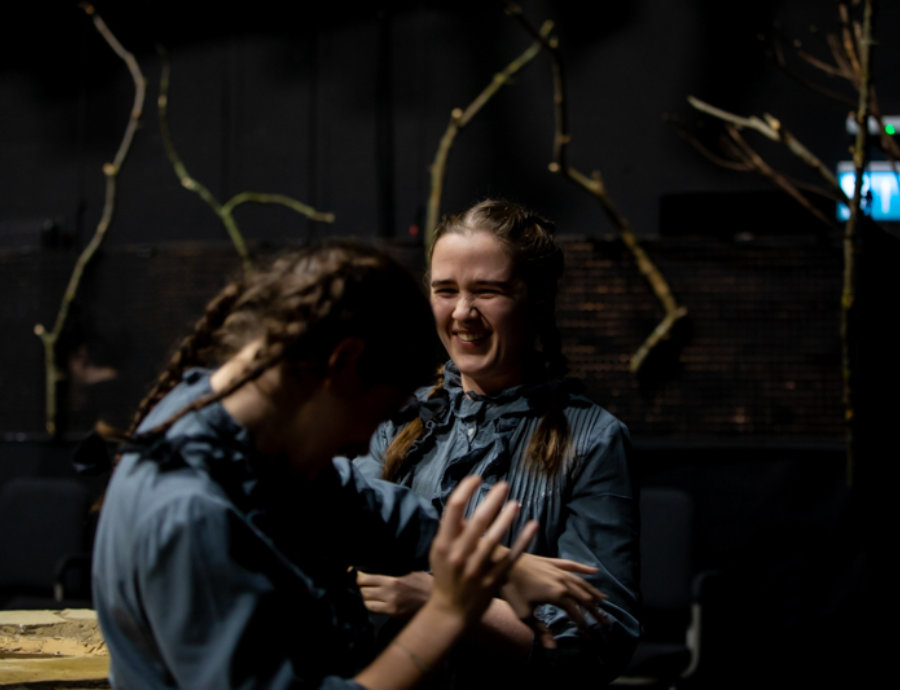 Short Courses / Acting
Junior Academy
10.00am - 4.30pm / Saturdays / Sep 9th - Mar 30th
A tailored programme in acting for talented students aged 15– 17 to experience drama training. Instalment payments available with Humm Finance.
Course Information
Course Begins:
Sat 09 Sep 2023
Type:
Beginners
Duration:
10.00am - 4.30pm, Saturdays, Sep 9th - Mar 30th
Ages:
15-17
Questions?
Please visit the FAQs here. If you don't see your answer there, you can contact us via the enquiries button.
Overview

Junior Academy is taught by leading professionals, many of whom also teach on the Foundation Diploma in Acting and Theatre and the Bachelor in Acting undergraduate courses at The Lir Academy. The Junior Academy provides practical experience in Voice (projection, breathing techniques, dialect etc), Acting and Movement, the three cornerstones of conservatoire training and will ultimately provide a platform for further training in acting, theatre or drama.
This intensive course allows students to develop skills in acting, self-confidence, improvisation, listening and taking direction. Junior Academy is ideal for any teenager who has a passion for all things theatre-related and is interested in developing this passion into further training and/or a career.
A limited number of places are available on this programme in order to ensure that each student receives the maximum individual attention.
The course curriculum includes training in voice, movement, dialect, acting, ensemble work, Stanislavski's system and will culminate in a live performance open to family and friends of the participants.
The cost of this course is €2,800 and can be paid for in instalments. This is available with Humm Finance. We can also offer instalment payment plans directly with us - so you have more options. Humm offers the possibility of paying off your course in smaller amounts over a longer period of time. Instalment payments directly with The Lir Acdemy require the payments to be made over the six months of the course in three amounts.

There are a limited number of bursaries available for Junior Academy which can be applied for once a place has been offered.

Students who take the Junior Academy course often progress from the Young Actors' Programme and apply to the Foundation Diploma in Acting and Theatre as well as the Bachelor in Acting degree.


The Lir Academy continues to be guided by the HSE guidelines in relation to Covid-19. You can see more here.
Application Requirements and Procedure click to
Requirements
Fluency in the English language is essential.
A commitment to attendance, punctuality, discipline and preparation is required from every participant.
Information on what to wear etc. will be sent to successful applicants once they have been accepted onto the course.
Procedure:
All eligible candidates who apply before the closing date will receive an audition.

Each candidate is asked to prepare ONE monologue for a group audition.
You need to prepare ONE monologue of NO LONGER THAN THREE MINUTES. Your monologue can be either:
A CLASSICAL monologue by SHAKESPEARE (or another Elizabethan/Jacobean playwright).
Or a monologue from a CONTEMPORARY play, ie a play written in the last 50 years.
You must memorize the monologue and be comfortable in performing it without a script.
During the half day audition workshop each candidate will work on their monologue as part of a group audition.
Equality and Diversity
A candidate should feel free to disclose impairment at any time during the audition process if they have not done so on their application form. Applicants with disabilities or impairments who demonstrate talent and potential will be put forward to the next stage of the audition process by the panel members, who will not concern themselves with the implications the disability may have on subsequent training. The panel will be informed of any disclosed disability on a candidate's application form unless the candidate has asked for the disability to be kept confidential.
Term Dates for 2023/24 click to
Term 1 Dates:
Saturday 9th September to Saturday 16th December, 2023. Hours: 10am - 4.30pm
Midterm 28th October (no class on this date)
Term 2 Dates:
Saturday 6th January to Saturday 30th March, 2024
Showing Rehearsal Dates:

Work on the final show will start on Saturdays from mid-February. Hours for show rehearsals are 10am - 5pm and full attendance is required for these Saturdays as well as the final rehearsal week.

25th March - 29th March, 2024. Hours 10am - 5pm.
Performance:
30th March 2024. Hours 10am - 5pm.
Students will have to be free to attend the rehearsal sessions in order to take part in the production.
Terms and Conditions click to