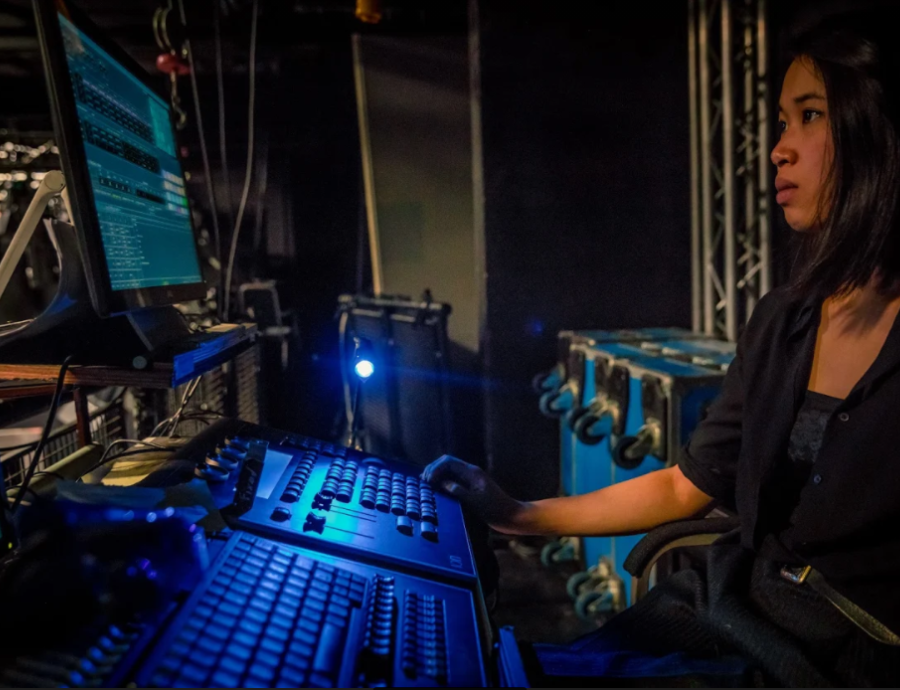 Undergraduate Courses.
Study Abroad - Stage Management & Technical Theatre
Varies
This is an unparalleled opportunity for immersion into The Lir's programmes for a semester or year of study abroad. Scroll down for more information.
Course Information
Type:
Fulltime
Duration:
Varies
Ages:
18+
Questions?
Full details on the course and application can be found below.
If you have a question that requires assistance, please use the enquire button.
Overview
By taking part in this Study Abroad option, students will be fully immersed into The Lir Academy, as well as receiving study abroad advice and support through Trinity College Dublin, including visiting student orientation, accommodation, advising, events throughout term, and more.
About The Lir Academy
The Lir Academy, Ireland's National Academy of Dramatic Art, was established as a result of a recognised need for an academy of excellence within the island of Ireland. It is part of Trinity College Dublin and is associated with the Royal Academy of Dramatic Art (RADA) in London. Offering a range of undergraduate, postgraduate and short courses, The Lir Academy is successfully supplying the theatre and related industries with students who have been trained to the highest standards possible. Acting training from introductory level to degree level is taught by industry professionals who take immense pride in teaching their craft.
Credit Transfer
The Lir Academy is accredited by Trinity College Dublin and all The Lir Academy students are registered Trinity students with access to Trinity services, including Trinity College Dublin transcripts. Students are able to enrol in modules for 25-30 ECTS at the Lir Academy. Modules at the Lir Academy are taught in conservatory-style so it is important that applicants check in with their home university to ensure credit transfer in advance of coming to Trinity.
Please note:
• Due to scheduling and credit maximums, students cannot enrol in the Lir Academy modules and other Trinity modules in the same semester.
• It is not possible to study abroad at The Lir Academy for a full academic year as The Lir teaches during the summer (Trinity Term), which the rest of Trinity does not. The Lir Academy offers an intensive 3 year undergraduate programme whereas Trinity offers a 4 year programme. That would result in transfer credit of 80 ECTS, over the maximum course load of 60 ECTS for visiting students.
• Due to general study abroad orientation and The Lir Academy module start dates, students cannot take The Lir Academy modules in Semester 2 unless they have also completed Semester 1 at The Lir Academy.
• Exchange students who are not fee-paying are not eligible to participate

Further Details
Please see the sections below for further breakdown on course options.
Questions?
For more information about offerings at The Lir, please contact admissions@thelir.ie
For more information about general study abroad at Trinity College Dublin, please visit the Study Abroad
website and email study.abroad@tcd.ie with questions.
Applications click to
Application Process:
• All students applying for The Lir Academy must apply by the 15th April deadline for the following
Academic Year, and must follow the process for applying to study abroad at Trinity College Dublin
outlined in the document here.
• When creating your application for admission to Trinity, please:
o List 'Drama' as the Discipline (Area of Study) and then list the Lir Academy modules under the
modules section
o Provide a CV in the 'additional documents' section of the application for admission to Trinity
that addresses their preparation in Theatre.
• Lir Academy applicants will be invited for an individual Zoom or similar interview before gaining
admission.
• Note: The Lir Academy offers to applicants will be made in May/June, and not on a rolling basis as in
other Trinity study abroad admissions decisions.
Options, Dates, Modules and Requirements click to
You can see a breakdown of the module options, their dates, the requirments to apply and the overview of subjects at this link.