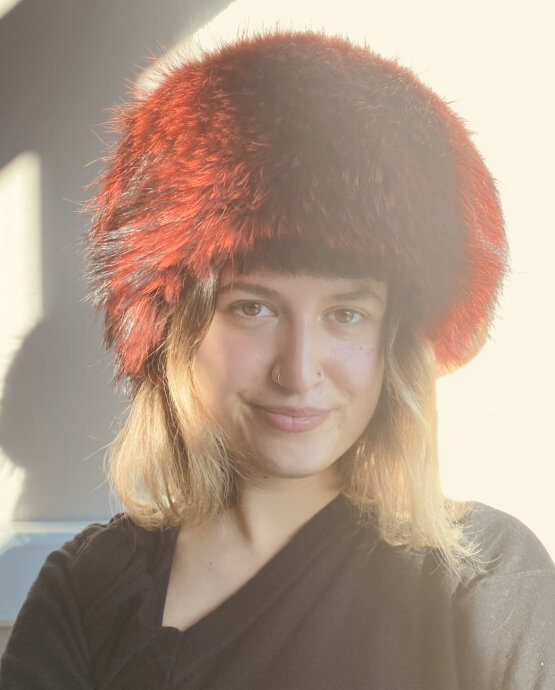 MFA Profiles / Stage Design / Current Students
Lisa Della Chiesa
Experience
Lir Academy Training
Other Experience
Lisa Della Chiesa, a Textile Artist and Costume Designer, holds a First Class Honours degree in Applied Materials with a focus on Textiles Art and Artefact from The National College of Art and Design, Dublin. Further enriching her skills, she completed a semester at MOME University in Budapest, specialising in Textile and Fashion Design.
Currently residing between Dublin and the West of Ireland, Lisa is a concept-driven artist dedicated to zero-waste cutting and the use of second-hand or locally sourced materials.

Her artistic approach revolves around constructing narratives through textiles, utilising the body as a canvas for exploration. She has designed and made wearable sculptures in response to themes such as body dysmorphia, consumption and climate change.
Lisa was privileged to work for designer Lucinda Graham, contributing to projects like "The Nothing Compares Documentary" by Kathryn Ferguson. She has collaborated with Director Jill Beadsworth and Minori Yanagase, Textile Print Designer, whose work featured in New York Fashion Week 2019.
In addition to her studies, Lisa freelances as a stylist assistant, collaborating with talents like Sarah Corcoran. Beyond the realm of costume design, she also explores her passion for electronic and experimental music as a DJ under the name of Airy Fairy, having performed at events such as The Cork Jazz Festival and Plant Bass'd.

Driven by a love for electronic music, contemporary dance and performance art, Lisa has found her calling in costumes for stage and screen productions. Her fascination lies in understanding how costumes contribute to a performers' immersion and transformation in their roles. Currently pursuing an MFA in Stage Design at The Lir Academy, Lisa is majoring in Costume Design, aiming to further develop her skills and apply them innovatively and ethically in the creation of costumes that breathe life into scripts.
---