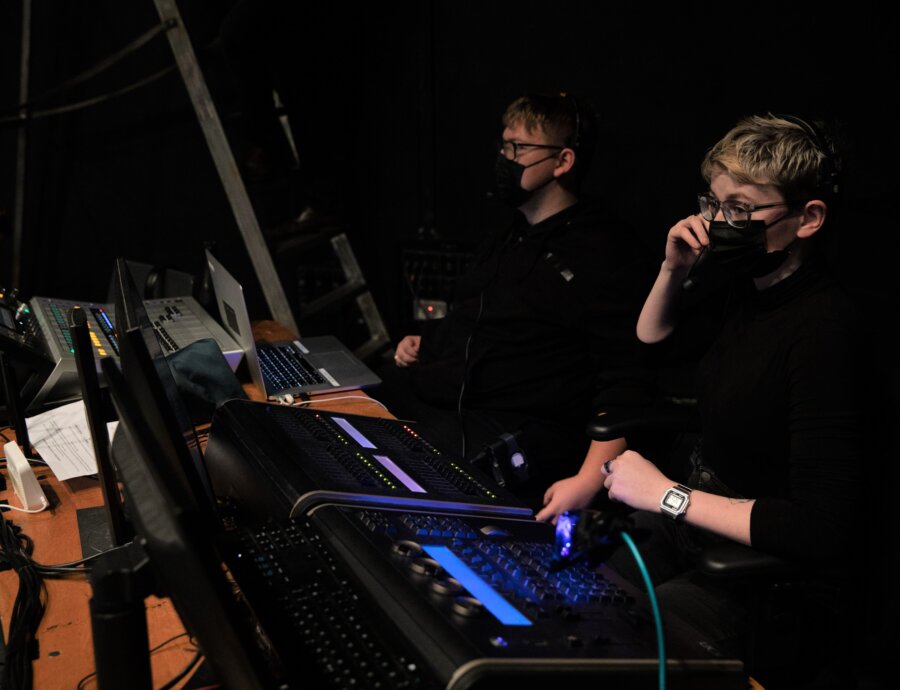 Short Courses / Technical
ETC EOS Console Training: Amplify | The Lir Academy
1 day / 9:00 AM - 6:00 PM
ETC Europe, The Lir Academy and PSI Production are proud to present a series of 1-day ETC EOS family training sessions across Ireland at various levels.
Course Information
Course Begins:
Sat 15 Apr 2023
Duration:
1 day, 9:00 AM - 6:00 PM
Ages:
18+
Questions?
If you have any further questions, enquire and we'll contact you.
Overview
ETC's Eos family of consoles provides power that is elegant, approachable, and scalable. These hands-on training events will give you the opportunity to explore first-hand the features and functions of these powerful control systems.
The classes are taught by lighting designer Kevin Smith. The sessions will include a hardware overview of Nomad, Element, Element 2, Ion, Ion Xe, Gio @5, Gio, Eos Ti and Apex consoles. During the courses you will be introduced to the basics and nuances of this high-level control system and you will leave with more confidence in using your ETC console.
We have recently restructured the Eos training model. We now provide: Eos Essentials (previously Level 1 and Level 2 combined), EOS Expanded (previously Level 3) and EOS Advanced (previously Level 4). An EOS Expert course if offered on request subject to demand.
Courses options are as follows. Each course is a 1-day course.
- Eos Essentials
- Eos Expanded
- Eos Advanced
- Augment3d
- Eos Amplify for Theatre

Amplify is a 1-day training course for the Eos family of consoles. Amplify has been developed in response to the demand for 'the next level of training'.
Amplify takes the skills and techniques learned in Eos Family console training sessions and adds a new layer of context to the learning outcomes. When people attend the regular training, they often come away know how to record a Beam Palette, but not always knowing why they should and how the features that they have learned can help to speed up the programming process. Amplify aims to address
this by offering the 'why' and not just the 'how'.
Amplify introduces the next stage in console training and skills development. Amplify is an intensive training session that is aimed at improving work flow, teaching new skills and helping people to become faster, more proficient programmers. Set in a fast-paced environment, Amplify aims to simulate a real-world programming experience giving attendees the opportunity to test their current skills and develop new ones as they go. Amplify builds on the knowledge gained from Eos Family console training sessions and takes those core skills and guides attendees through applying them into their daily programming practices. Amplify is structured around a series of programming tasks to complete and an opportunity for review at the end of each task. Each attendee will work on their own console (so the classes are slightly smaller) which will be from the Eos family.
By the end of the session attendees can hope to have:
• Improved show file preparation skills
• Be more efficient in the setup of the console before they start programming
• Be a more proficient programmer
• Vastly improved work flow
It is import to note that in order to attend an Amplify session, it is highly recommended that you have attended the Eos Family console training sessions offered by ETC and you should have been using the console for at least 6 months. Before your session, you will be expected to prepare the show file that you will use in the Amplify sessions which you will need to bring along.
The details can be downloaded here:https://drive.google.com/open?id=11z2K-yg9WRmWP7VNT8flnpk4Uf3P4CM-
Please note that there will be no time in the Amplify session to create your show file – you will have to have prepared it in advance.
We will also not be covering any of the training topics covered in EOS Essentials training in this session.