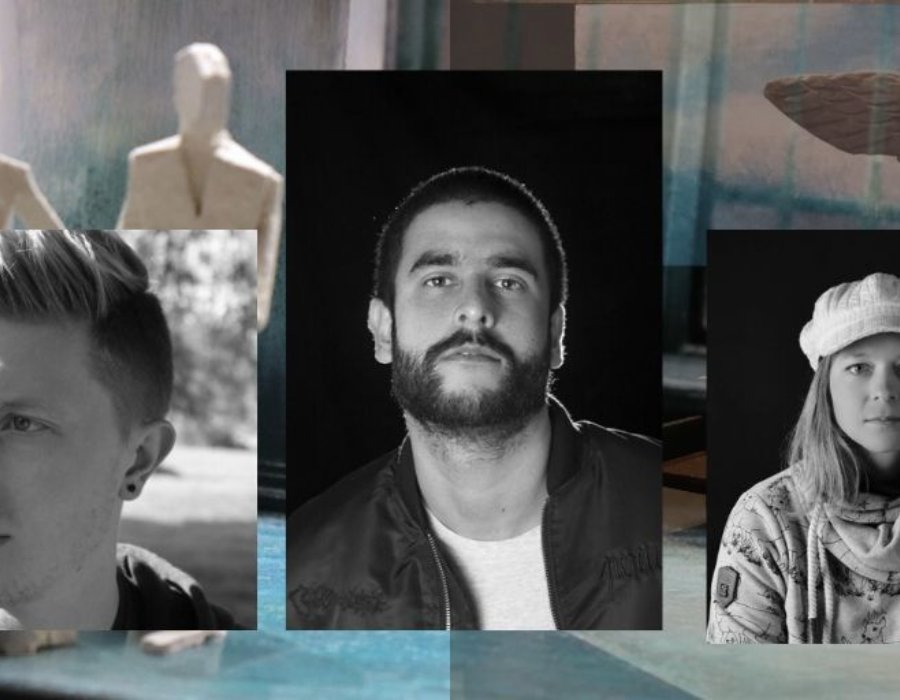 Interview with the Designers of Anatomy of a Suicide and Summer and Smoke
We had a chat with Lir graduates Rodolfo Villalobos (MFA Stage Design 2019), Fenna von Hirschheydt (MFA Stage Design 2018) and Jack Scullion (MFA Stage Design 2017) who are back at The Lir Academy, designing the set, lighting and costumes for Anatomy of a Sucide and Summer and Smoke. Here's a glimpse into the creative process of these exciting shows.
What is the most exciting or challenging part about working on this show?
Fenna (Lighting Designer, Anatomy of a Suicide): The most challenging and interesting thing about Anatomy of a Suicide from a lighting design point of view is that I have three scenes from three different eras, times of year, and times of day happening simultaneously. I need to find a balance between telling the individual story lines and an overall aesthetic that is pleasing and suitable.
Rodo (Set and Costume Designer, Anatomy of a Suicide): The form of the play and the text itself are challenging, not only for the performers but also for the creatives. As a three-story line play, it has been like designing three shows at the same time. Costumes were a real challenge as we have 64 different looks on 9 performers.
Jack (Set and Costume Designer, Summer and Smoke): It's great to be back at The Lir Academy and work with the fantastic resources they have here. It excites me to work with the professional staff and ever creative and resourceful students as I know they'll really execute my vision with care and precision. The world that Tennessee Williams creates is so beautiful and tangible that it's a delight to design for, with looming angels, sweeping blue skies and decadent gowns coming together to build that southern charm.
Talk a bit about your creative process for the show.
Jack: I've been talking about this play for months with the director. Everything's a conversation, a bouncing back and forth of ideas and a collaboration. I take a blank sketchbook and dissect the play in charts, spider graphs, photos, sketches, buzzwords and really explode it into all the thematic ideas. I then pull visual cues from all those ideas and draw each visual out even further until something starts ringing a bell. And then that becomes the basis for the design. For Summer and Smoke I really got drawn to the agriculture of Mississippi in the 1910s and started playing with the struggle of mankind versus nature, and intrinsically the moral dilemmas of humans when faced with their natural urges. This leads to the duality of heaven and earth. Heaven being represented by the angel and clouds, earth by the decrepit grassy verges, rock rostrum and square floorboards that mimic ploughed fields.

Fenna: The concepts were given early through discussions with Tom and Rodo. With those in mind I went looking for references and possibilities. With Rodo I tried out some of these early lighting ideas in the model box, so by the time of the first rehearsal and meeting with my chief electrician, I had a list of ideas and things I wanted to try out. For me, experimenting is very important. And at The Lir Academy we have the facilities to do it. And the teams to help you with it.
Rodo: Tom and I started to talk about the piece while I was traveling around the EU, so I was exposed to beautiful landscapes and a very different architecture from what I am used to. After quick sketches I tried to go to a 3D stage as quickly as possible. We went through three different sketch-models of the set before getting into the final one. In regards to the costumes, I was less interested in hitting the time periods and more interested in building relationships.
You are all graduates on the MFA Stage Design. How has this MFA influenced your work?
Jack: The MFA at The Lir Academy has really taught me how to delve into a script, pull from it the important parts and to turn that into something visually special. The practical skills I honed in The Lir Academy, like model making and costume rendering, are essential for conveying your vision to cast and crew. And also the professional experiences like Gradfest and placements have set me up to have a great work ethic and network.
Fenna: I got a lot of offers through people I have met through The Lir Academy. And of course I still collaborate with many people who I have studied alongside with, whether they are technicians, fellow designers, directors or actors.
Rodo: In the best possible way. Absolutely all of what I am now presenting on stage is a product of my experience at The Lir Academy.
What was the best part about studying at The Lir Academy? And how does it feel to have done the full circle: start as a student and then be back working here?
Fenna: The training and facilities at The Lir Academy are aimed towards teaching best practice. I have not experienced as much support outside of it for any productions. And returning to The Lir Academy gives young designers the chance to work with very exciting directors and designers.
Rodo: I think the family spirit of the people working at The Lir Academy is what makes it special. Always feeling that you are welcomed and appreciated as a person and not only as a professional. I think The Lir Academy gives the students time to share time and experience with each other, building relationships along the way and understanding that theatre making is a collaborative and community experience and practice.
Jack: The best part about studying at The Lir Academy was getting to explore your creativity in a very supporting environment and doing so while in the company of fellow amazing students on similar yet unique journeys from all corners of the country and world. And also under the tutelage of some of the finest professionals in the country.
Why should people come see this show?
Jack: Summer and Smoke is a compelling love story that really captivates the audience with humour and charm. It brings to the table the question of what it really means to love someone.
Fenna: Alice Birch is a fantastic playwright.Tom Creed is a brilliant director. Rodo Villalobos is an incredibly talented designer.It is a story about three women. There is going to be a rabbit.

*Anatomy of a Suicide runs from 6th -12th February and Summer and Smoke runs from 7th - 13th February.